Ok, we all know Peter Gunz love triangle with Tara Wallace and Amina Buddafly infuriates fans, especially since Tara said she moved on from her ex Peter, but now Tara Wallace + Peter Gunz Date Night Causes Firestorm!!!
Flip and find out the latest drama that Tara Wallace + Peter Gunz has stirred up…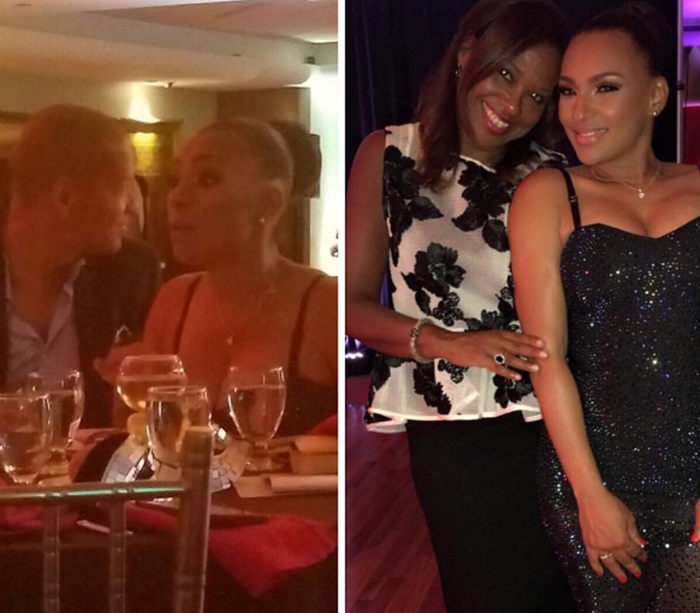 CelebNReality247.com has just learned that Peter Gunz and Tara Wallace were recently spotted together at the UNCF masked ball in New Jersey!
Shortly after a photo surfaced by TSR fans immediately started CLAPPING BACK at the former lovers and questioning Tara for being the ex baby mama and now side piece.
Tara didn't take kind to any of it and FIRED BACK at the haters. Wallace made things worse when she hopped on IG to differentiate between a "baby mama" and "mother of your child" but failed when fans slammed her for being a hypocrite.
Here is the meme from Tara:
The meme below defines "babymama" as "a person who is mad at the fact that your not with her and left for your happiness. She's spiteful so she tried to make your life & relationship with your child difficult every chance she get." Meanwhile according to the meme, the "mother of your child" is "a woman that knows you two relationship was over and there's no hard feelings. She works with you so you can have a lasting relationship with your child."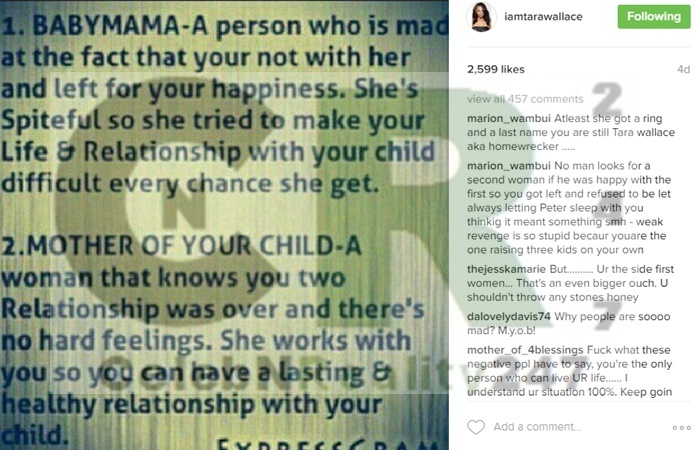 It came off like Tara Wallace was trying to do some convincing of her own, but FAILED!
Nobody know the dynamic between the former couple. What we do know is that they have 3 boys together and they have to co-parent. Peter Gunz is the father to her children and the main man in her life.  Was she supposed to fly solo to an event that is mostly couples?
Come on, we all know how that sucks!
Unfortunately for Tara, the commenters were brutal to Wallace and said she had nothing to show for the three children.
That is when Tara clapped back, severely:
"Well, since you ask, let me clear it up: two degrees, one book self published, another set to be out in December. Had u been watching even part of the show you would be smart enough to know that if you want respect give it."
[rpi]
Remember this moment at last years Love & Hip Hop 6 Reunion?
Then Amina reminded everyone that she was NOT to be out-done by Tara Wallace. She is the last woman to be pregnant by Peter Gunz. Amina had gone to LA for a brief moment, but is back in NYC awaiting the birth of Baby Bronx Pankey.
Here is how she put it along with some , gorgeous baby bump photo
"Feels amazing to have come here for the second time, especially after enduring so much heartbreak. I can't wait to meet my girl ??."
Amina was spotted looking radiant while doing a PSA for Teami Blands:
She writes:
"Staying healthy and keeping my skin smooth with my @teamiblends! Healthy energy can follow me every where with my Teami tumbler. Use code AMINA at check out for a discount #teamiblends #thankyouteami"
Bottom line, Peter Love Amina and Tara. You might say they are in a polygyny type relationship, but that is when all parties agree to unite. The women share one man and are both married to him. But the man also provides for each woman and takes care of them.
You decide. Thoughts?