Former Love & Hip Hop Atlanta star Tommie Lee Calls Out Princess Love!
Finally some tea spilled on "Love And Hip Hop Unlocked" between Princess Love and Ray J, but the person who was accused of it is lashing out. Read on since Tommie Lee calls out Prince Love over Ray J accusatons…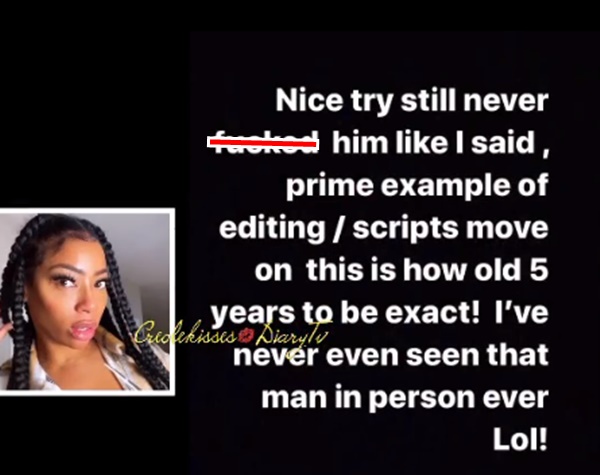 CelebnReality247.com reports that we already reported that Princess Love and Ray J arejust co-parenting and still going through with the divorce.
On the final episode of "Love And Hip Hop Unlocked", Ray J was in the hot seat thanks to his impending divorce from Princess Love.
During one segment of the VH1 special, the cast discussed past hookups with other cast members.
To make things worse, Princess revealed that Tommie Lee said on "Dirty Little Secrets" that she hooked up with Ray J. When Ray J was asked if he messed around with Tommie, he said he couldn't recall this ever happening.
He was also accused of hooking up with Karlie Redd, and said he had no memory of this either.
Ray J had selective amnesia when put on blast on "Love And Hip Hop Unlocked."
Since the episode aired Tommie Lee has responded and she is not taking kindly to the tea.
"Love And Hip Hop Atlanta" star Tommie Lee wasn't happy about this, so she called Princess out on Instagram.
Lee wrote:
I've never been with anyone on that show except Scrapp. @PrincessLove keep my f*ckin name out cha mouth spreading rumors. Girl ya man been for the streets, but he ain't Neva bend my block FOH!
Sometime later, Blogger, The Shade Room, posted a clip of Tommie talking about Ray J on "Dirty Little Secrets."
View this post on Instagram
She said:
Peter Gunz may have something to offer. I might do it with Peter, destroy Scrappy…he's a cornball. Smash Ray J one more time.
Tommie responded to this as well. And she wrote;
Nice try still never f*cked him like I said, a prime example of editing/scripts. Move on this is how old 5 years to be exact! I've never even seen that man in person ever. Lol!
She hasn't stopped airing her feelings:
View this post on Instagram