Love & Hip Hop Atlanta 5 has new blood and everyone's talking! The King Family is all the talk, and Scrapp DeLeon's Girl Tommie Lee Criminal Past Revealed!!!
We told you about Kathy King, Scrapp DeLeon and now we have the tea to spill on Tommie Lee on the flip…
We're NOT sure if you caught the tea on the latest episode of "Love & Hip Hop Atlanta" since viewers witnessed when Tommie Lee faced off with Tiara over their mutual love interest Scrapp DeLeon.
And after the Tommie Lee and Tiara caught fade (while seemingly not wearing underwear), Tommie's lengthy arrest record was confirmed on LHHATL. Get this, Tommie Lee, whose real name is Atasha Jefferson, according to the tabloids, has a whopping 32 mug shots.
Hot damn! That is insane!
Mimi Faust weighed in with this tweet: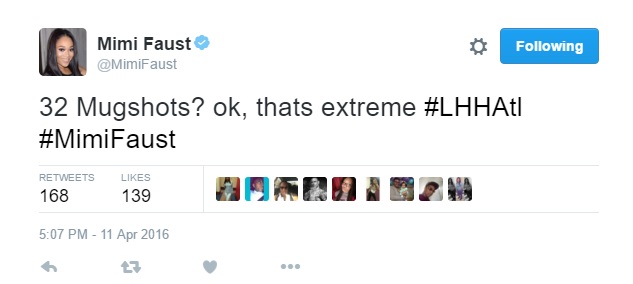 But the tea is NOT about the Tweet's this comes from Fameolous who got a tip from an inside source who apparently used to work for Karen King. Wait until you hear the job this individual was doing. They're trying to paint a perfect picture of KK, but if this dirt is true, it could be used against her if it gets in the hands of the police.
She may have been acquitted for lack of evidence from the murder of her late husband, but this is a whole other thing.
According to an unconfirmed e-mail tip also says that "Tommie" isn't even her real name. It's "Atasha Jefferson," and she is supposedly wanted in Minnesota for a "fraud case she caught with Karen King."
[rpi]
Here is what Fameolous reported:
"I see you guys are pouring tea about all these clowns. Karen and Tommiee both are frauds. @tommiee_ use to work for Karen doing identity fraud. That's how they are friends. Tbh her real name ain't Tommiee. Tommiee real name is Atasha Jefferson. She is wanted right now in Minnesota for fraud case she caught with Karen King. And she paid for her ENTIRE plastic surgery procedure with someone else's money and identity. The doctor who did it in Miami also pressed charges against her for stealing. Her ass teeth and lumpy stomach is all fake. Not sure how she think police ain't gonna come get her after being on television…

…She ain't got no money she got like 30 mug shots all from identity fraud and stealing ???? We never known her to be tough only when she drinks because she an alcoholic. Not sure how Scrap baby mom let her win that fight. With her weak ass, because Tommie just got a loud mouth but she not known for beating bitches up. She usually get drunk talk shit then get beat up. (Ask around) Scrap other ex-girlfriend is the owner of Hair R Us her name is Khatyma (the dark-skinned one) she beat Tommiee ass outside of platinum 21 one day. I saw with my own eyes (A strip club in Atlanta)…

…Scrap didn't even really like her. He got a baby by Tiara and this chick name Erika her gram is @ebeauty404 he loves these two because they really get money and act like women. He dealt with her for the show and because she Karen friend."
Wow, that is a lot to take in, what do you think about Tommie?
Photo: Instagram/Tommie Lee