Black Ink Chicago LACKED EVERYTHING accept the N-word out of Lily Barrios mouth.
"Black Ink Crew Chicago" returned to Vh1 last Tuesday and it was NOTHING but a disappointing mess! The OLD Black Ink Chicago is GONE!
Once again we witnessed that Lily will NEVER change and her continual use of the N-word is KILLING the show. Not to mention Van's new crew acting dumb!
With Ryan Henry locked up his new 9Mag compound and Van Johnson running the old 9Mag with a bunch of weed heads from his clothing line, it was painful to watch. Not to mention Lily Barrios petty antic and N-word usage. #SMH – We did everything we could t sit through the Black Ink Chicago disastrous return. Read on…
CelebNReality247.com has the latest Black Ink Crew Chicago — since Ryan Henry has passed the torch to his former frenemy, Van Johnson, things at the old 9MAG shop have been quite tumultuous.
Bottom line Black Ink Chicago disastrous return SUCKED! It used to be the better of the two Black Ink Crew's and now the series has totally slipped.
We understand that Ryan Henry wants to move on and make a success of his new 9Mag keeping out the drama of his old crew, but that is what the show was built on.
If the show is going to be a lot of Van treating women like dirt, drinking and getting drunk, then just cancel the series. In the clip above Charmaine finally realized why Ryan bounced.
Last week fans were subjected to Van Johnson displaying that he is a HORRIBLE BOSS and treats women like dirt. It is a back look as a black man and business owner.
Ryan has moved out and completely detached from the drama, but Don doesn't deserve to be left behind. Charmaine NEEDS to move on from 9Mag and focus on her radio personality gig.
Meanwhile, Lily, who was FIRED, decided to b PETTY and start some shit with 9Mag did a pop-up in defense of Bella, but things just got worse when she used the N-word again.
She ended up being showered with a drink in the face as a room full of black men and women looked like they were ready to take her out.
Lily Barrios just doesn't get it.
She NEEDS to stop using the N-word she is Mexican NOT African American. What is so bad about all of this is that Lily refuses to stop using the N-word.
Lily took to social media with this PETTY response: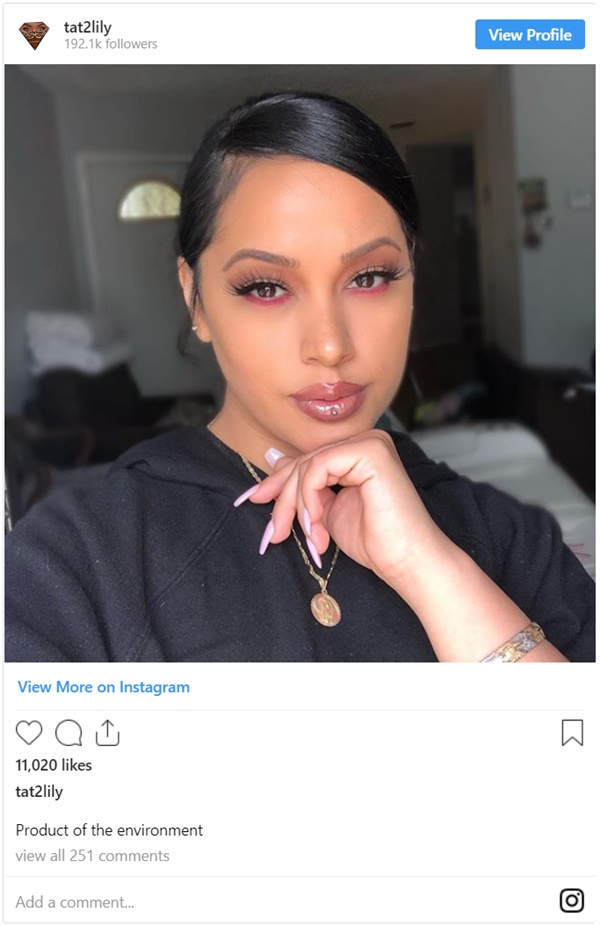 Producers probably figured the controversy would bring in strong ratings, but that's been the exact opposite when it comes to this topic.
Ratings have been on a steady decline. Last week's mid-season premiere resulted in the lowest ratings ever in the history of the show. The episode only pulled in 739,000 viewers.
When you factor in the fact that the season 5 premiere brought in 1.071 million viewers, it's hard to ignore the drop.  Now it might be that people are used to a Wednesday time slot, but we will find out this Tuesday. As far as the storyline at this point, Black Ink Crew Chicago needs to be retired! And it sucks because this was a fav of ours.