Yesterday, The Real Housewives of New Jersey husband Joe Giudice started his 41-month prison stint, but now the question is, "Could Joe Giudice Be Out of Prison in 18 Months"?
Find out what we are talking about…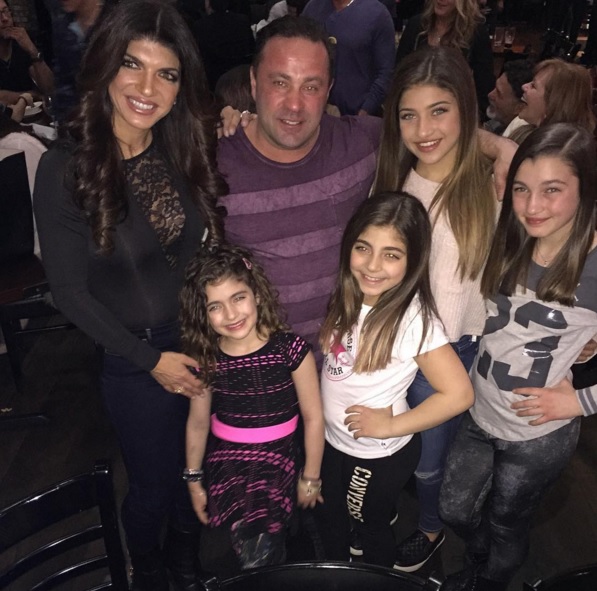 On Wednesday, Joe Giudice turned himself in after his Real Housewives wife Teresa Giudice threw her husband a huge farewell party with friends and family.
Shortly after Joe started his first day in orange, Giudice's team released a statement on the reality star's behalf after turning himself into the Federal Correctional Institution at Fort Dix.
The statement, which was released to People, reads as follows:

"Joe Giudice surrendered himself to the Federal Correctional Institution at Fort Dix today at 12 p.m. to begin serving his sentence. His brother, his sister and several other members of the Giudice family, as well as myself, were present when he turned himself in to the prison, including Teresa. It was obviously a very emotional day, but this is a very strong family with a tremendous support system and they will get through this, just as they did when Teresa was away."
Joe is looking at his time behind bars in a positive light saying that it will help him to kick his drinking habit. Joe, who stated that, "I took full responsibility and tried to do what I could to keep her out of there. We worked on it until the last day when she went in" but now Teresa's time behind bars is over and now he has to face the piper.
Joe said this about his time in prison:
"I'm looking at it like rehabilitation for me. I am not going to be able to drink for a while which is good because I don't even know when it's been since I haven't had a drink. It's been a long time. Definitely the whole year I definitely drank every day couple bottles at night just to go to bed."

"A lot of programs knock ten days off a month. So, whatever programs are available, I don't care if I have to take up to 24 hours, seven days a week, I will knock off as many things to pass time and get it over with and get out. That's what your goal is – to basically work on getting out."
[rpi]
Joe's prison sentence comes just three months after his wife, Teresa Giudice, served nearly a year in prison for bankruptcy fraud. Moreover, we hope that, Joe, for the family's sake comes out a better man and is allowed to stay in the US and not be deported back to Italy.
Fast forward to today, the reality stars revealed to PEOPLE that he hopes to be out of prison in as little as 18 months.
"I shouldn't be in there longer than a year and a half. You get a good time, and now they have, with my kind of crime, [a system where] you are eligible for [sentence reduction] programs in there so I will do as many programs as I can."
For the next 41-months or less, Joe plans on living by his simple prison philosophy:
"Mind your business, do your thing. Just stay low key and do your thing nobody wants any problems in there."
We love his optomistic outlook and hope that, for Joe and his families sake, that he does in fact get released early on probation to serve the remaining 23 months on house arrest.
We will keep you posted…