It's O.V.E.R. Zach! JWoww was so hurt by what you did, she is DONE!
Last week, JWoww finally got to watch herself on TV and see how the night played out while she was in a complete blackout passed out between Zack Clayton Carpinello legs.
But while watching a moment in her life play out on national TV on Jersey Shore Family Vacation the truth prevailed and Jenni JWoww Farley saw what happened. Jenni was NOT pleased with any of it, especially seeing Zach groping Angelina and how she did NOTHING about it except complain. Read on to see how JWoww DUMPS BF Zach…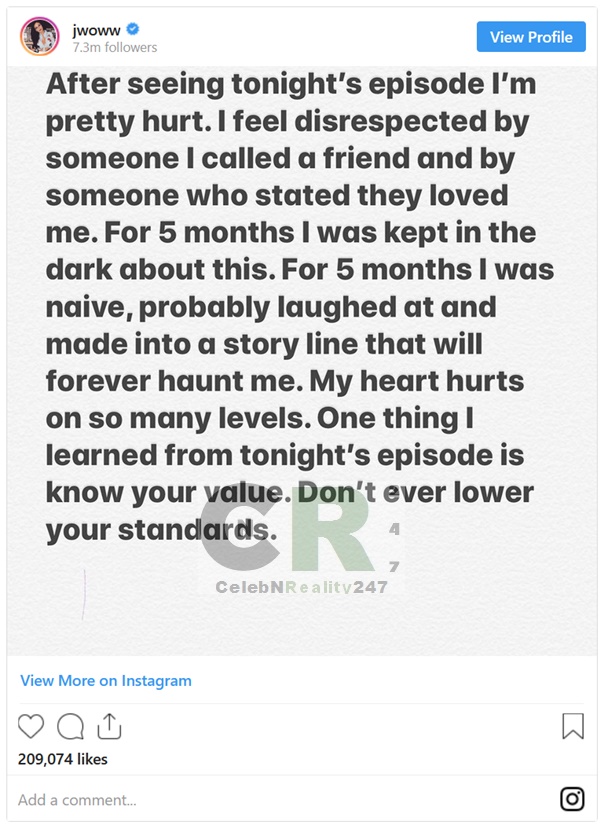 CelebNReality247.com has learned that Jenni "JWoww" Farley is once again a single woman!
Jenni "JWoww" Farley was so upset at what she saw on TV five months after it happened, she officially changed her relationship status back to single.
The Jersey Shore: Family Vacation star broke up with boyfriend Zack Clayton Carpinello on Thursday night, following her viewing of the reality TV show's most recent episode earlier that evening.
If you saw the episode, which took place in Vegas, Carpinello is shown flirting with and groping fellow cast member Angelina Pivarnick in a club while JWoww was passed out.
The 33-year-old tanning lotion mogul jumped on her Instagram account with a post/delete announcing to the world she was hurt by what she'd seen.
Jenni writes that after watching the show she is "hurt" and she "feels disrespected" by Zach's actions.
"For 5 months I was naive, probably laughed at and made into a storyline that will forever haunt me," said Farley.
The crazy thing is that it had only been 5 months since Jenni made it official.
Bottom line it's messed up and it caused her relationship to fail. Jenni was so happy, but after watching and how it played out on TV it just brought up bad memories from her marriage to Roger Mathews.
Jenni went through a lot dealing with her divorce from Rodge.
What do you think about JWoww DUMPS BF Zach?