Marriage Boot Camp: Reality Stars is getting heated. On the last episode former Love & Hip Hop Atlanta star Margeaux Simms + KeKe Wyatt Fighting on Marriage Boot Camp!!!
Get the tea on Margeaux Simms + KeKe Wyatt on the flip…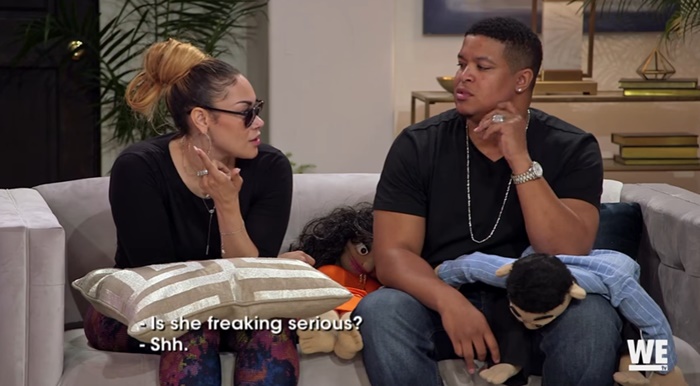 CelebNReality247.com has just got word that "Marriage Boot Camp" castmates Margeaux Simms and KeKe Wyatt went head to head in a heated brawl.
The THIRST is real with KeKe Wyatt. While Margeaux is discussing her problems and discoveries with Nikko during a group exercise KeKe is disrespectful. If you've been watch, then you know that KeKe puts the G in ghetto girl!
She is always trying to grab focus and have the spotlight on her. No matter what is going on KeKe will sound off just to get her coverage.
Yes, Keke deserves a Girl,Pee then!
As for, Margeaux, she felt disrespected by KeKe, so instead of dusting it off, she CALLED her out. Meanwhile the cast of reality stars all side with Margeaux.
Eurweb writes:
If you missed it, on this week's episode of "Marriage Boot Camp: Reality Stars," R&B singer Keke Wyatt and former "Love & Hip Hop: Atlanta" star Margeaux squared off during a heated discussion.

It all went down when the cast was participating in a group s*x therapy exercise where Margeaux and Nikko had the floor and KeKe kept interrupting them. When KeKe thought she "whispered" to her husband about having to use the restroom, she annoyed the others — including one of the counselors — who could clearly hear her loud complaints.

When one of the marriage counselors addresses KeKe, Margeaux jumps in and all hell breaks loose. KeKe takes a jab at Margeaux's s*xuality when she says, "I've had seven children, something you probably will never do!"
Thoughts?
We have one. KeKe NEEDS to #SDSU
What do you think about Keke's nasty behavior on Marriage Boot Camp?