Amina doesn't care what anyone thinks about her pregnancy announcement and now in a new post on social media Amina Buddafly Explains Why She Got Pregnant Again!!!
Find out what Amina Buddafly is saying on the flip to her haters and Cardi B…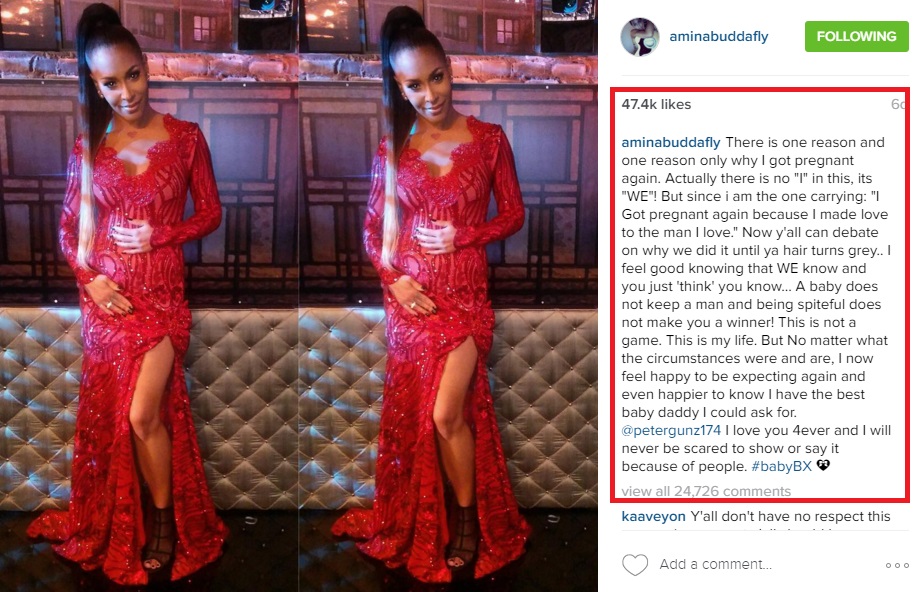 On the Love & Hip Hop 6 Reunion Pt 2 Cardi B attacks Amina's husband Peter Gunz and now Mrs Pankey is speaking out on why she decided to get pregnant after having an abortion.
We previously told you after Rich Dollaz leaked the news before the reunion aired when Amina announced her jaw-dropping pregnancy news and now we are dropping another update from Amina Buddafly.
[rpi]
She posted some photos of her new baby bump, but since the news of her pregnancy it appears she has been getting a lot of flack for it. She doesn't feel like she looks stupid, like Cardi B said she appeared on Love & Hip Hip 6 this season, so she released this statement to shut it down!
Amina Buddafly writes:
"There is one reason and one reason only why I got pregnant again. Actually there is no "I" in this, its "WE"! But since i am the one carrying: "I Got pregnant again because I made love to the man I love." Now y'all can debate on why we did it until ya hair turns grey.. I feel good knowing that WE know and you just 'think' you know…

…A baby does not keep a man and being spiteful does not make you a winner! This is not a game. This is my life. But No matter what the circumstances were and are, I now feel happy to be expecting again and even happier to know I have the best baby daddy I could ask for. @petergunz174 I love you 4ever and I will never be scared to show or say it because of people. #babyBX ?"