Charmaine Quits 'Black Ink Crew Chicago'!
According to reports, Charmaine Bey has officially quit 'Black Ink Crew Chicago' and is selling her Tattoo shop 2nk City Ink. Continue on to see why Charmaine Quits Black Ink Chicago…
CelebnReality247.com reports that last season of Black Ink Crew Chicago was tough on Charmaine Bey, but it also showed she is a horrible boss and has no dequorum when it comes to dealing with her staff.
Charmaine's inexperience running a Tattoo shop was apparent to all who watched the show, and for Mrs. Bey it was a frustrating experience. She had tension with a couple of tattoo artists who took issue with how she did things.
Charmaine had a problem letting go and trusting someone to help her run her business and when Ms Kitty stepped up, Charmaine stepped in and fired her. She was absolutely wrong for that. When it came to Draya coming back to 2nd City Ink, Char said it would be all good, but in return it was all a mistake.
Charmaine was pregnant with baby no 2, her dad died and it was just overload for her. She should have been smart and let Ms. Kitty and Draya help her, but instead she made them enemies.
Not to mention that Charmaine pointed the finger at producers and cast members to make the drama the focal point of the storyline while she was grieving. Even her husband Neek Bey jumped in to defend his wife and her wrong doings, but that what a husband does even if she is right or wrong. Char was wrong.
The sad thing is she is not owning up to the way she acted. Charmaine brought all the drama on herself, but she won't even admit the truth, she's a horrible boss and has no clue how to run a business.
Charmaine Bey Announces She Quit 'Black Ink Crew Chicago'
Apparently, last season was so much that Charmaine decided it is time to walk away from "Black Ink Crew Chicago." She confirmed she won't be on the upcoming season. And she's no longer in a good place with Ryan.
Charmaine didn't like how things unfolded while filming the recent season of "Black Ink Crew Chicago." She said it was insensitive for the show to focus on her drama with 2nd City Ink employees when she was grieving her father. And Charmaine accused Miss Kitty and Draya of not really working at the shop. According to Charmaine, they were just there for television. And they attacked her for a storyline even though they knew she was pregnant and stressed about her father.
Anyways, she wrote:
I quit the tv show blackinkcrew, I'm no longer working with "TV tattoo artist", unfollowed any phony person I use to deal with from the show, hired all dope tattoo artist who represent Chicago, and my haters will still say my shop isn't legit. Whatever helps you sleep at night. Hating on me will not get you a bigger bag and it certainly will not stop my success. The worst ones are the ones who say they love you to your face but they hate you deep down inside ?

If you support me beyond the tv show, follow my tattoo shop @2ndcityink and check out the amazing artist who work at my shop. Thank you team for trusting me! Nothing but respect and all love over here ?
FYI: Charmaine is selling her Tattoo shop. A smart move on her part, since she doesn't know how to talk to people or treat them with respect.
You can purchase @2ndcity.tattoo aftercare products, numbing cream, cleanser etc on our website www.2ndcitytattoo.com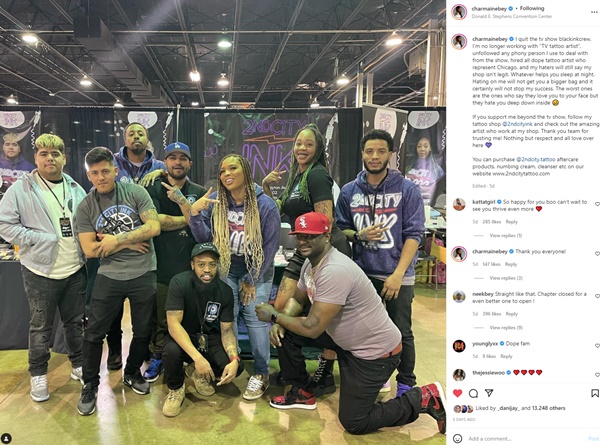 In addition, Char said she unfollowed people from the cast…
Bye Bye…