If you thought Dating Naked was hot you haven't seen nothing yet, because Latin hunk Joel aka Magic J is making sure to heat up the days and nights with his Magic J lapdance lessons!!!
Watch and find out what is doing down on Dating Naked…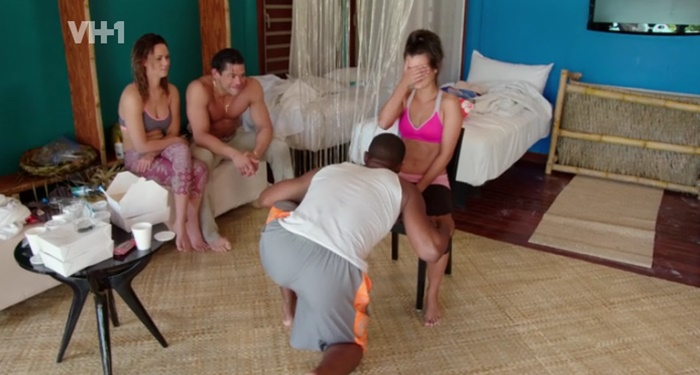 CelebNReality247.com has a few guilty pleasures and Dating Naked is one of them. Who knew going on dates with no clothes could be so much fun?
We all know that Natalie's date Joel (or Magic J), revealed early on in the episode that he's an exotic dancer back home. He decides to spread the wealth (and his legs) a little bit by teaching David and Daveed how to give a lap dance. What makes this hilarious is watching David and Daveed looking so insecure and confused on how to grind.
Com'on boys show the world you know how to lay pipe! LOL!
Joel may have been trying to be a cock block between David and Natalie, but when David steps up and tries his new moves out on Natalie and impresses her with his A1 body roll. Things might have just gotten hotter between David and Natalie.
Did Joel's Magic J class backfire?
Watch David heat things up during Joel's Magic J lapdance class on season 3 of Dating Naked:
Have you been watching? We are routing for David and Natalie! What about you?
Don't miss an all new Dating Naked, Wednesday at 9/8c!