It's been a year since we've seen or heard from Love & Hip Hop NY 5 stars Jhonni Blaze and Precious Paris until today when Jhonni Blaze Shades Precious Paris Over Sucker Punch!!!
Find out what Jhonni Blaze said to her LHH5 nemesis on the flip…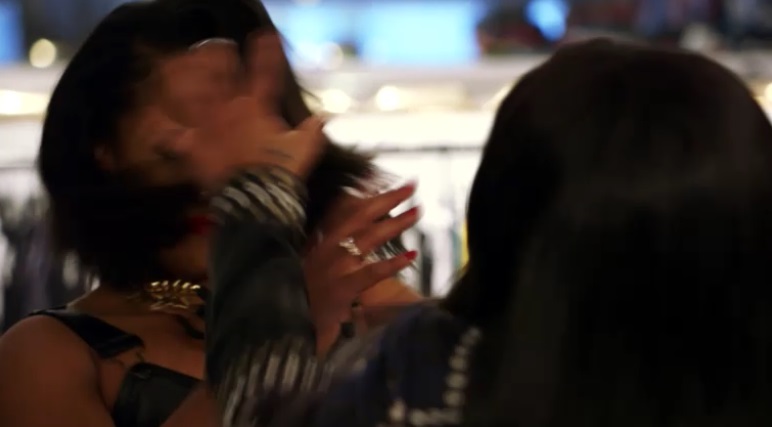 Last year on Love & Hip Hop Precious Paris and Jhonni Blaze were caught fighting over the mighty Rich Dollaz multiple times on season 5!
If you recall it all started when Precious Paris pulled a pop up at one of Jhonni Blaze's studio sessions with Richie D, Blaze was angry that Paris just walked in unannounced and had the audacity to get mad because Dollaz Entertainment had more artists than just Precious Paris.
Paris acted a fool and started going off on Rich. See Paris is an artist that was signed to G-Unit at one time. She was supposed to have been the princess of G-Unit, but it didn't work out, like their prior female artist Olivia Longott, who was also on Love & Hip Hop 1-3.
Paris and Blaze had no love for each other last season and when Rich Dollaz tried to play referee at a woman's clothing store things went left and Paris sucker punched Blaze in her eye.
Well earlier today Jhonni Blaze posted their epic fight on her Instagram and then Jhonni Blaze commented on the fight, saying:
"I love. @preciousparis, I swear we was wrestling like crazy women…I'm glad me and you cool as a fan though in real life. I ain't going to lie I think you the reason why my eye be blinking for no reason, LOL."
Check the side message we snapped before Jhonni removed the post this message to Paris on May 2, 2016: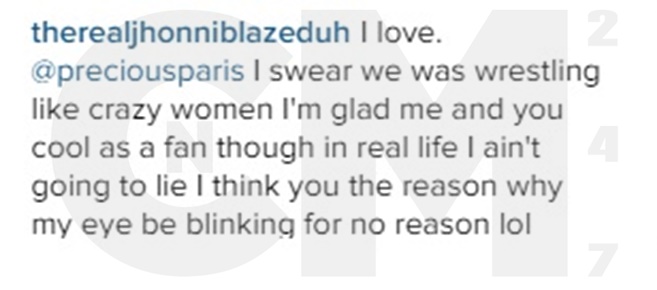 If you remember Jhonni and Precious got into it and Rich Dollaz was loving every minute of it during one of many Love & Hip Hop season 5 fights.
Take a look and you'll also notice Rich laughing his @ss off!
Before Precious Paris sucker punched Blaze she made sure to tell her that she messes with Rich Dollaz the long way and if anyone comes at her man wrong, she's throwing down.
Blaze is a ride or die chick, but in the end Rich didn't want her, she was the same chick that posted his peen on social media when they broke up back in 2014.  Watch Blaze trying to profess her love to Rich's mom.  Rich Dollaz weighed in saying that he didn't want her or the crocodile tears:
Watch:
What do you think about Blaze popping up out of nowhere and commenting on a season 5 fight? We heard filming has already started for LHHNY on Monday, so maybe Jhonni is back to stir things up since Rich storyline was a little on the snooze side of things.
What do you think of Jhonni Blaze message to Precious Paris?