Mona Scott Young recently appeared on "The Wendy Williams Show," promoting her new book discussing the most talked about stars of "Love and Hip Hop."
Mona Scott Young NEVER expected Joseline Hernandez to get upset, because the Puerto Rican Princess went off on Mona. Read on…
CelebNReality247.com has learned that Joseline Hernandez went off on Mona Scott Young, the creator of Love & Hip Hop franchise.
Mona Scott Young was on Wendy Williams yesterday, and Joseline Hernandez was watching.
When asked about Cardi B, Mona said that cameras are rolling for her. As for Joseline, Mona is NOT working with Joseline, but she made sure to give props to her with her show on WE tv.
She looks great. She's doing her thing. God bless her. I want her to go forth and prosper. I promise you. No shade at all. God bless her.
Joseline let everyone know that she wasn't happy about what Mona said about her.
B*tch did you go to Wendy to promote my show or yours???? God bless you Mona bitch. Your show dropped 50% and if anyone call me with negativity I'm going to curse you out. I give two f***s about this dirty crusty mouth hoe. check me.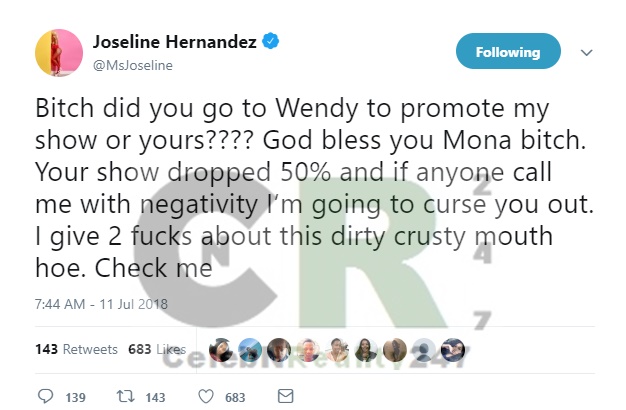 Of course, fans of Joseline Hernandez know the Puerto Rican Princess is not here for Mona Scott Young.
Wendy made sure to bring up Joseline Hernandez, and Mona's response led to Joseline going off on Twitter. They fell out after Joseline demanded more money and Mona would not budge. Joseline decided to leave the show and fell out with K. Michelle after she defended Mona.
Joseline tweeted the following not too long after: