When it comes to Amina Buddafly and rapper Kardy Ferrari, he is setting the record straight that he will NOT be on Love & Hip Hop 6!!!
Find out what Kardy Ferrari is saying about the rumored relationship with Peter Gunz estranged wife Amina…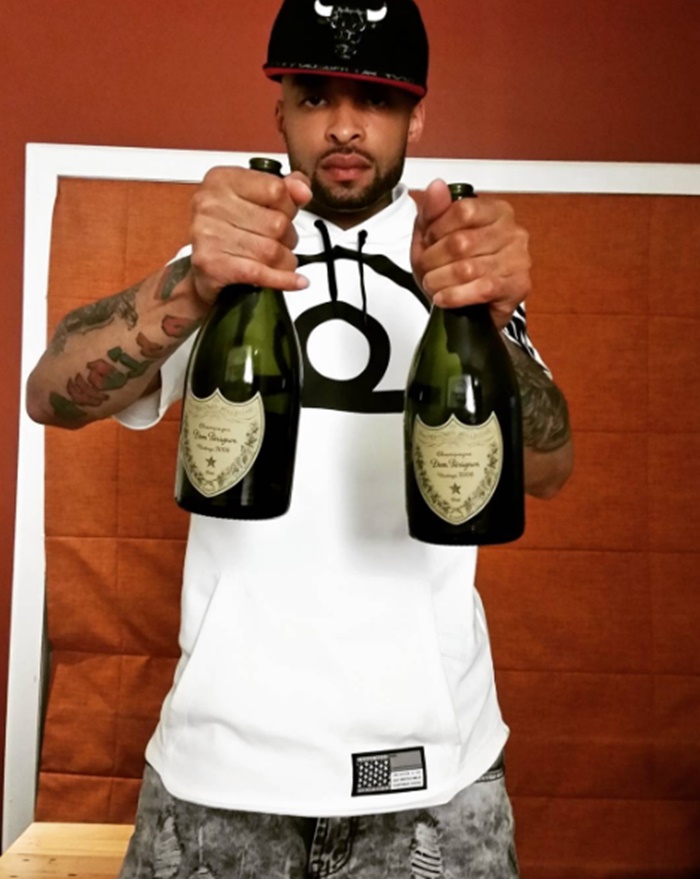 CelebNReality247.com has some boiling tea, so make sure you don't burn your tongue when you sip this mouthful of Kardy Ferrari!
Ok, so we heard that Amina Buddafly might have a new man, who is the cousin of the woman Amina hired to help watch her and Peter's children while she's on the West Coast.
Messy, right?
Well, NOT really, if you think about it, Peter Gunz was more messy since he knocked up Amina back in the day, while he was with Tara Wallace. Anyways, that was like so four years ago, so moving along.
Get the REAL from Kardy Ferrari!
The new tea is this. Amina and Kardy Ferrari posted a half-dozen photos online and it instantly sparked RUMORS that he and Amina are smashing.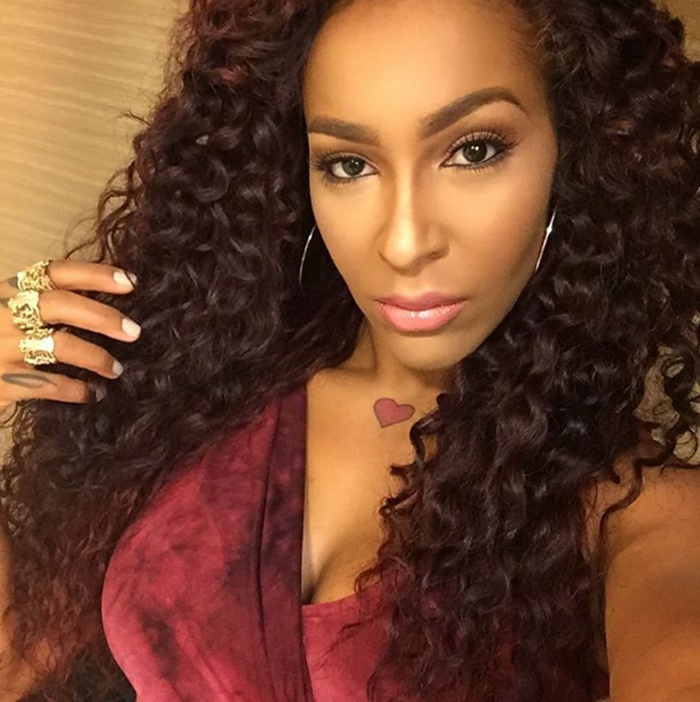 Then, there was a Insta-vid made that insinuated that Kardy smashed Gunz wifey. It was on a few sites and then instantly PULLED DOWN. Could that be Mona Scott-Young trying to keep a lid on Mrs. Buddafly-Pankey's story line?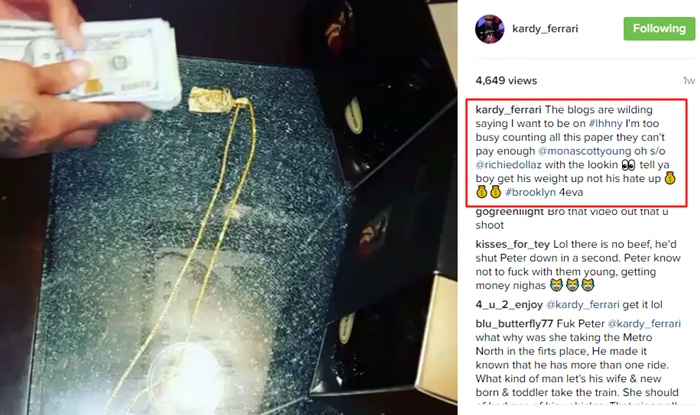 Who knows at this point. What we do know is that Kardy Ferrari is making it clear that he is NOT interested in being on Love & Hip Hop 6. NO THIRST HERE!
Kardy Ferrari has gone on record to DEBUNK the RUMORS that he and Amina are smashing!
Ferrari SHUTS THE RUMORS DOWN saying (photo above):
"The blogs are wilding saying I want to be on #lhhny I'm too busy counting all this paper they can't pay enough @monascottyoung oh s/o @richiedollaz with the lookin ? tell ya boy get his weight up not his hate up ??? #brooklyn 4eva…"
While most fans feel that Peter Gunz deserves everything that is happening to him, since he cheated on Amina with Tara, saying:
"F–k Peter he deserves it and more!!!" Another fan weighed in saying: "F-k Peter @kardy_ferrari what why was she taking the Metro North in the first place, He made it known that he has more than one ride. What kind of man let's his wife & new born & toddler take the train. She should have had one of his vehicles. That n—a all up his Baby mama ass anyway."
Watch:
Kardy proves that he was on some business shhhh with Amina, but she added some heat to the text to make it look otherwise.
Take a look:
Take a look at the texts between he and Amina to prove he's NOT lying about only doing business with Peter Gunz wifey: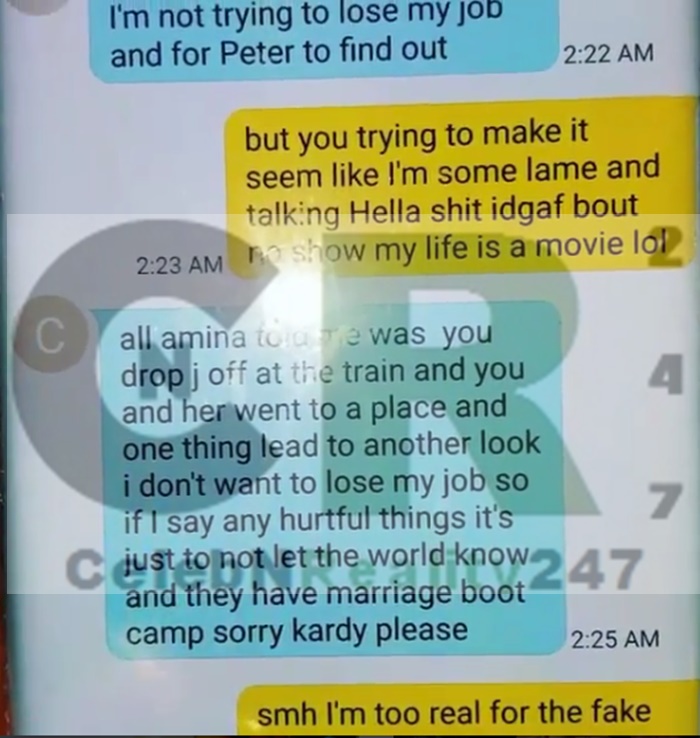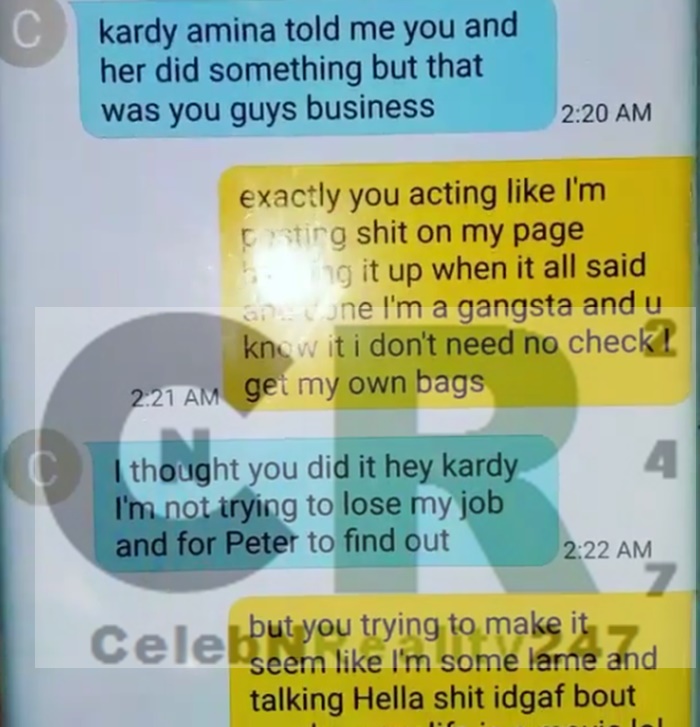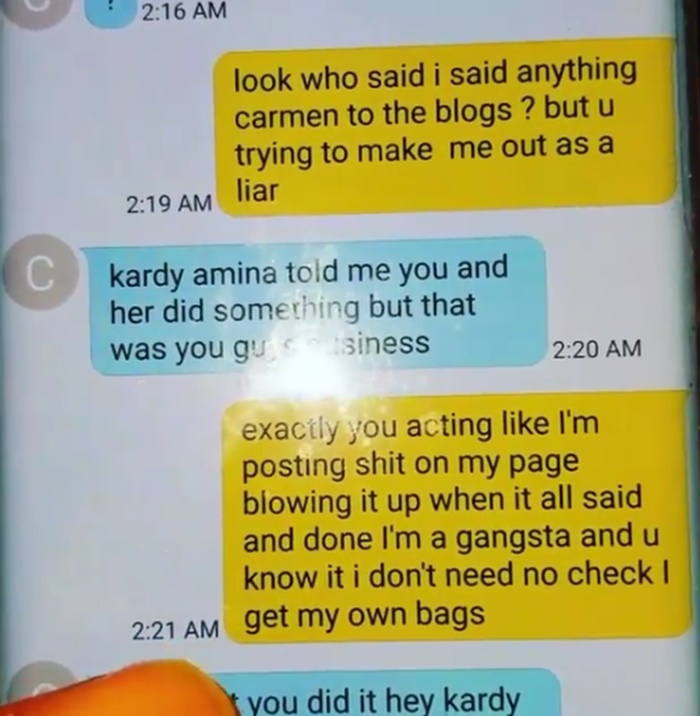 Despite the RUMORS and Kardy setting the record straight on what happened with Amina Buddafly. We have more photos of the Harlem hunk: