Joseline Hernandez continues to cause drama for anyone affilated to Stevie J. Now Karen King Stressed by Joseline Restraining Order Against Tommie!!!
Get the tea on why Karen King Stressed by Joseline Restraining Order and the drama surrounding it…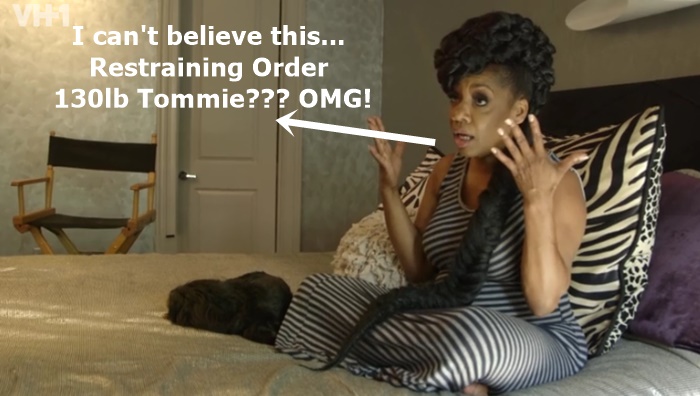 After the segment where it was revealed that Joseline took out a restraining order on Tommie, everyone was shocked but no one was more shocked than KK.
The Love & Hip Hop Atlanta newbie revealed that she was extremely surprised by Cokealine and her actions. Karen King was so upset by the news that she had to have a stiff drink and get her smoke on, Ciggarette smoke that is! Oh yeah and a diet coke, but that part was pointless.
KK responded by saying, "This s–t is serious!" don't forget to check the SHADE by KK towards Cokealine…:
Karen also revealed that Nini aka Nina Parker told her about what Joseline has done, her first thought was basically, why Tommie? She's like 130lbs. Although Tommie wasn't physically served the papers for the restraining order, KK maintains that the producers knew what it was. They also made sure Tommie stayed TF away from Joseline — 500 feet away to be exact.
The restraining order comes from and incident that took place back in March when Tommie Allegedly Tried To Run Joseline Over With A Car. The only part is there is no allegedly, because Tommie said "yes" when she was asked if she tried to run Joseline down.
Since last weeks reveal, Tommie by be getting her own cell next to Scrapp DeLeon now that she is being investigated by prosecutors for her admissions.
Love & Hip Hop Hollywood cast is back on Monday at 8/7c for the finale show down in Pt 2.
Waht do you think about all this mess on LHHATL5? Is Joseline out of line or right for a restraining order against Tommie?