It's time to sit back and sip the tea because on Love & Hip Hop Atlanta Karlie Redd Gets Her Faced Cracked when she learns that Lyfe Jennings Not only gave her a FAKE RING. He has a baby mama she knew nothing about named Apryl!!!
Flip and get more tea on Karlie Redd, the FAKE RING and Lyfe's baby mama Apryl…
CelebNReality247.com has some tea on Karlie Redd who has been bashing Lyfe Jennings in interviews since her relationship went in the toilet with the R&B singer during the run of Love & Hip Hop Atlanta 5.
Lyfe already went on record that Karlie Redd was NOT the woman he thought she was. He admitted he wasted the D on her. But last week Lyfe Jennings gave Karlie Redd her news with a kick rocks ring. Karlie passed out for the cameras, but then learned that the ring was a break up ring. That was just the beginning of the drama.
Later Karlie and Dime went to the jewelers to see if the ring was real or not. That is when LHHATL fans all fell out on the floor because she got her faced cracked. LHHATL fans weighed in saying:
Karlie Redd just got out messed by somebody more messy than her.? #karlieredd #lhhatl pic.twitter.com/JO19GknZYd

— pepper34 (@pepper34) July 19, 2016
Let's NOT forget Benzino was the first man to give Karlie Redd a goodbye ring back in season 2 of LHHATL. Take a look:

This week, Jessica Dime invited Karlie to her photo shoot to meet a couple ladies. One of the ladies was Lyfe's baby mama, who gave birth to his child back in January. Karlie got pissed off when she hears the truth, so she goes right into a push and shove fight with his baby mama Apryl. All you hear is Karlie calling Apryl Thirsty. Was she? She just got some of the D from Lyfe and got knocked up? If that make Apryl thirsty, what does it say about Karlie, who was locking lips with Scrapp DeLeon while dating Lyfe?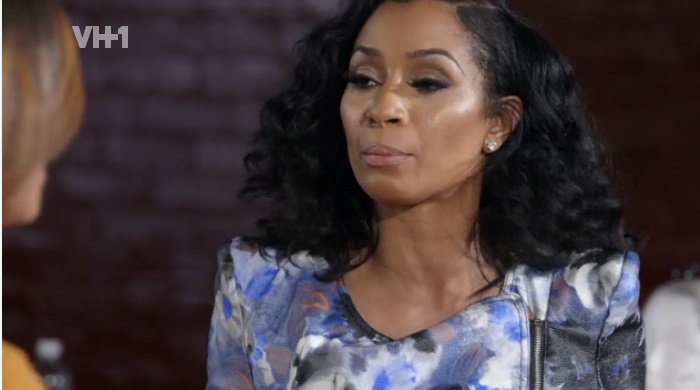 Karlie has that continuous scratch that only a man can itch and obviously Lyfe was NOT enough for Redd. It seems shes needs her fire put out by multiple hoses and one man is not enough. Lyfe even said that Karlie was the one who wanted an open relationship, so who is the hypocrite? Dime tries to step in and break it up as Karlie But security are already showing her the door.
Watch Karlie Redd getting her face cracked:
The next day Karlie pops up on Lyfe during his video shoot to attack him about meeting his baby mama. Lyfe explains he didn't know she was pregnant with his child until she had the baby. Karlie doesn't buy his excuse and continues to attack. The two argue, and you can see Lyfe is completely over Karlie, who is wearing a peach body suit. What the hell is up with all the "I just got done stripping" clothes?
Karlie is so in denial of her wrongs because she did lose a good guy. Lyfe is a good man and a really cool person. Karlie is trying to paint an ugly image of him that is untrue! We wonder who is going to be her next rapper for season 6?