You might say that Kim Zolciak might have gone a tad too far on social media with a photo of her NFL hubby Kroy Biermann full in the buff!!!
Wait until you see the former Buffalo Bills baller Kroy Biermann brushing his teeth with NOTHING on….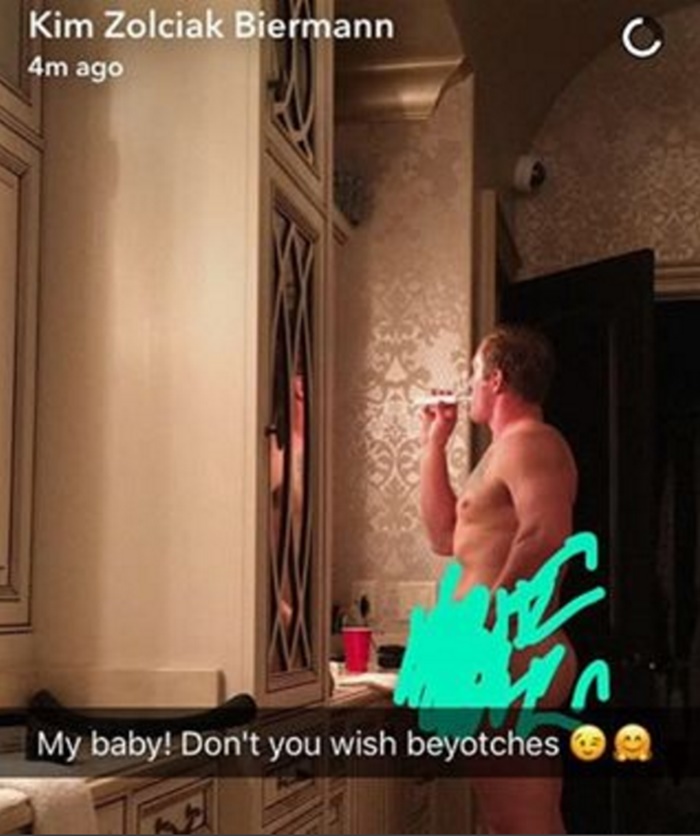 CelebNReality247.com is a bit shocked that Kim Zolciak would go as far as showing off her man Kroy Biermann in full glory.
We have to say his butt is banging! Damn Kim are you trying to make all the beaotches come hollarin at your man?
Remember girl, don't bring sand to the beach.
There are plenty of gold diggers out there ready to jump on a man like Kroy!
On Tuesday, The "Don't Be Tardy" star took to Snapchat, sharing a intimate moment between she and he husband Kroy Biermann brushing his teeth in the buff.
Though the reality TV star added a carefully placed green scribble to conceal Kroy's manhood … his backside was still fully on display in the snap.
Kim captioned the candid snap, adding a few playful emojis as well.
"My baby! Don't you wish beyotches."
Her daughter Brielle was NOT happy about the photo and told her mom to take the shhh down. We agree, but it's already out ther so…
Brielle posted this message to her mom after seeing Kroy Biermann in the nude: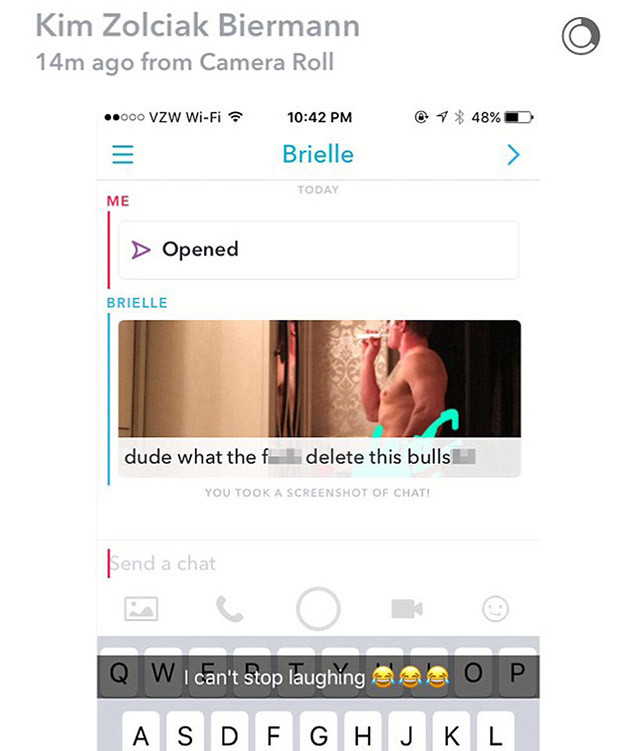 The photo seems to come a week after Kim went off on the media for making up lies about her marriage. She set the record straight about she and Kroy getting along saying:
"These f–king idiots that write this s–t in the tabloids all for clicks on your website. You say that Kroy and I are at war because he's home with me so much. News flash, a–holes, he's played for the Falcons for 8 years, so he's always been f–king home."
She added:
"On a more serious note, I really don't appreciate people talking s–t especially shit that's not true because I have the most incredible husband in the world."
Kim reiterated that point in another Snapchat, gushing over her man:
"I swear I'm like married to the king. He cleaned the whole house this morning and he cleaned the waterfall out front. I swear he's like the most incredible human that's ever walked this planet."
We have to admit, Kroy is HOT nekked. But Kim stop reading the media or even paying attention to it. If you stop they stop, but we know reality stars NEED to cause drama or we forget about them.
Thoughts?