What did we learn from LHH Hollywood Reunion Pt 2? Basically Brandi Boyd and Moniece Slaughter still don't like each other, Masika Kalysha and Hazel-E's still feuding and Willie and Shandra Taylor are separated!!!
Flip and get all the tea on the LHH Hollywood 3 Reunion Pt 2. Keep reading to get the recap of Monday's episode….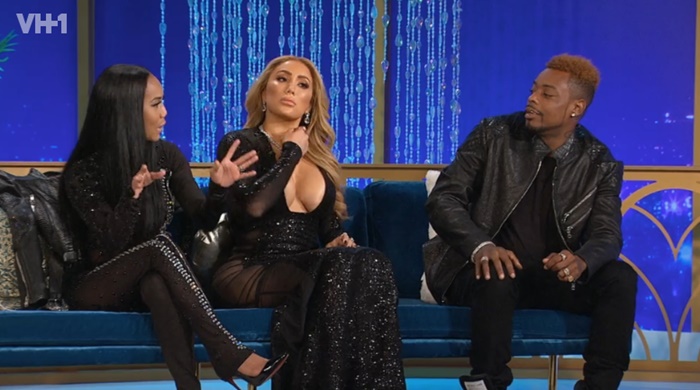 The reunion kicks off with Hazel-E coming to the stage to confront Masika. Hazel, who quit the series after Season 2, made an appearance on episode 11.
Hazel-E does a reunion pop up to set the record straight, but its a cat fight. Masika's face is cracked when Hazel hits the stage. She is so upset that she jumps up and makes a beeline for the audience. She tells host Nina Parker that she refuses to be in Hazel's presence. Hazel starts explaining her long-standing feud with Masika, and the two ladies start trading jabs over a song Hazel may or may not have done with Fetty Wap. It's a yelling match. Nothing is resolved.
Willie Taylor admits that he and Kyesha had one set of text messages and that he hit it one time. She regrets that he lied to Shanda. Shanda Taylor says that she and Willie are still split since she was blindsided by Willie cheating on her. Willie and Kyesha argue over the context of their relationship. Kyesha claims that she and Willie were in love. She goes off when Willie says that it was never 12 years. They had an off and on affair. She also claims that she got pregnant with his baby around the same time Shanda was pregnant. Willie says that the child is not his, because Kyesha was married to another man. Bottom line, she is looking for a come up! Sorry boo boo Willie is taken. Hope she remember how good the D was because Willie NOT going to do that mistake again.
Next up is  Safaree Samuels and his on and off Jamaican accent. Rosa Acosta makes a back-handed compliment, so Safaree then takes a jab at Rosa. It's basically the weak part of the reunion. Then Rosa Acosta check his "stupid a– fur" and not being able to pay for dinner when he takes Nikki Mudarris on a date. Nikki chimes in and tells Safaree that he needs to get his life and finances in order. before he tries dating her or any other woman. Safaree eventually apologizes to Rosa for disrespecting her. Fizz gets pulled into the mix, and he and Nikki have some words. She says the D from Safaree was better and Fizz was pissed. He replies that there are thousands of Nikki's in LA. He has talent, all she can talk about is the D's she rides. Yeah it got ugly.
Next is the Masika/ Max studio session when Brandi abruptly ended it. Once again Brandi Boyd says that she deserves respect because she was born into it. She's Whitney Houston's niece, friends with Beyonce and tight with Solange. Good for her, they have talent they get respect. Brandi is just born into fame, she deserves NOTHING! Too bad she doesn't get that. We guess she never read the memo entitled, "you have to earn respect?" Max says it was business and nothing more. Brandi is not hearing it. Masika tries to explain that Max invited her to do the album. Brandi is just on one and won't shut up. During their argument, Moniece Slaughter jumps in and alleges that Max has a secret child. Max says Moniece is spreading lies.
Last, we catch up with Teairra Mari, who NEEDS anger management, and rehab, but she denies it. Teairra Mari takes the stage to talk about her alcohol addiction and court case involving an alleged altercation with an Uber driver. Teairra says she's scared she may have to go jail, but the cast has her back. We understand she is scared, but she was on one when it happened. She doesn't actually know what she did. Nikki Mudarris is a real friend, she is most worried about Teairra. She needs to listen to Nikki. Kind of like all the other times in the past when she drank too much and became violent. Girl, we love you, but own your wrongs and please get some help!
How does the LHH Hollywood 3 Reunion Pt 2 end? Nothing is resolved, Brandi and Moniece still hate each other. Nia Riley hopes the women cast members can grow up. Fizz is able to clear things with Max and tells everyone that he appreciates all the guys on the cast. And Safaree and his corniness tries to close out the reunion with a group hug, but nobody is in the mood. We kind of understand why Nicki Minaj moved on now. That shhh gets really old, really fast.
The best part of the night was Masika Kalysha and her one liners thrown at Brandi and Hazel-E.
Until next season….