Joseline Hernandez turned on the water works for the second part of the LHHATL EXPOSED and UNEDITED reunion 5 when she revealed to Stevie J that she was 3.5 months pregnant!!!
Get the tea on why Stevie J is DONE with Joseline Hernandez after she told him she's pregnant….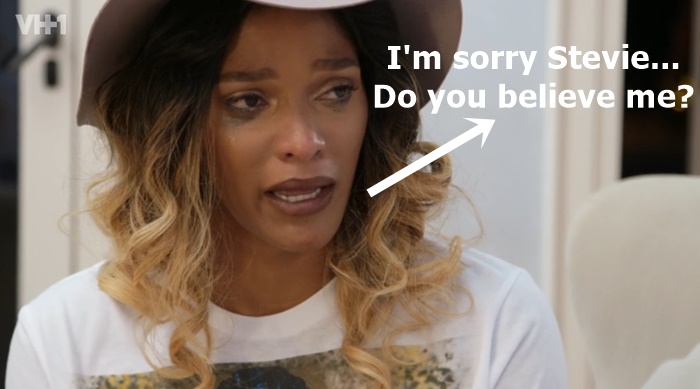 CelebNReality247.com has this tea for you LHHATL 5 fans. See Joseline Hernandez came back to the house where they were filming the reunion, but she sat down with EP Stephanie to reveal she was pregnant.
Stephanie double checked to make sure and once she got confirmation, she had her team notify Stevie J. The first time Stevie and Joseline sat down, he wanted an apology for all the slandering of his name. Joseline Hernandez was unapologetic, so Stevie did what any self respecting man would do. He walked out because he had enough of Joseline's antics.
Producers ran after Jordan, begging him to return and hear her out, so he did. This time Joseline had turned on the water works apologizing on cue to Stevie. He accepted and said that they could work things out. That only lasted that day, because as soon as the reunion was done filming. Joseline was back to her old tricks trashing Stevie J's name.
2 days later Joseline and Stevie filmed confessionals both admitting that they were done with each other. Joseline said she doesn't want Stevie's money or anything from him…
Sure she doesn't. Sorry we are NOT buying it Joseline.
As for Stevie J…he says that Joseline took to social media again defaming his name with lies. He said that he is OVER it and DONE with Joseline Hernandez. Once she has the baby he says they can work it out in the courts. He is DONE with the lies and betrayal. Plus he want to make sure the baby is actually his. He does NOT believe she is pregnant. Joseline is claiming she was at 3.5 months pregnant at the time they filmed the reunion.
Watch:
What do you think of Joseline Hernandez behavior all season?