Last week Renee, Carla, Karen, Ang and Drita said goodbye to Mob Wives after six dramatic and fun seasons, now Mob Wives Creator Jenn Graziano Weighs In on The Wives!!!
Find out what Jennifer Graziano is talking about on the flip…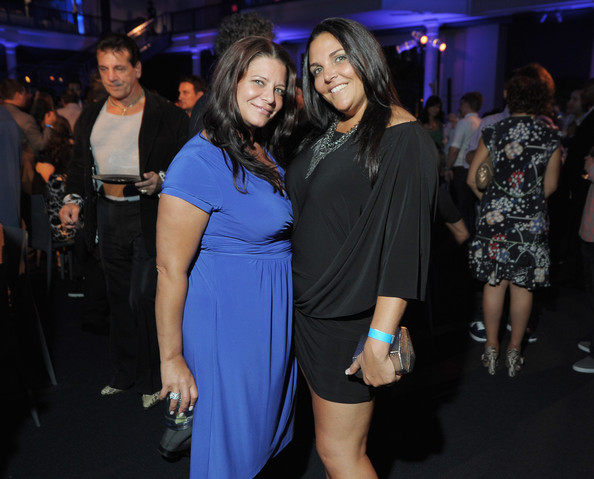 Since the series has come to an end, Renee's sister, Jenn Graziano is now speaking on the final chapter of Mob Wives and what's next.
When it comes to her close friendships with both Drita and Karen, Jennifer Graziano spoke on managing friends while wearing a producer cap.
Since Drita D'Avanzo and Karen Gravano candidly spoke in interviews about Mob Wives and what has gone on behind the scenes, Jenn is speaking out to set the record straight on some topics, like her sister Renee and Carla's friendship.
Jenn Graziano:
"So, Carla and Renee were friends since Renee was 16 and Carla was 19. They had a ton of mutual friends including some of the street guys and wise guys from that era that they all hung around with. Carla was dating one, Renee was dating one [and] they all hung out at the club where all the guys were. They really spent a lot of time growing up with each other and also within the world.

Karen was actually my friend, Karen and Ramona, we grew up together since we were like 15 years old. So, me, Karen, Ramona, and Ramona's sister [Roxeanne] who you don't see on the show, [were friends]. That was our crew. We were all born into this lifestyle. We were in it from the family perspective, but then the guys we were growing up with were sorta like mobsters in training. A lot of them wanted to be close to us and our friends because of who our fathers were and so we all formed this kind of clique, and that included Drita's husband Lee and a few other guys, my boyfriend, Ramona's boyfriend at the time. The guys were like their own clique.

When we were about 19 or 20, Karen had met Drita and Drita was actually dating this guy that we all kinda knew. So Karen and Drita used to double date. Karen was with Lee and Drita was with this other guy and Karen and Drita became really close, and then through her, Drita started hanging around with our little girl crew. We'd go to clubs, we hung out, and then Drita moved in with Karen. Karen moved to Brooklyn into her grandmother's house, and Drita moved in with her there.

Then, Big Ang [was] actually my aunt's Celia's best friend. So Big Ang, we would see all the time at Aunt Celia's: every Sunday dinner, pool parties that she would have, her daughter's christening, her daughter's communion. Throughout my entire life, anything to do with my aunt, Big Ang was there. Then she became close with my older sister Lana and she would start to come to our family parties. Her and my father were close too because Ang used to have bars and hang around with all the wise guys so she knew my father from the street life as well. Ang became like part of our family.

Love was one of Karen's friends. Actually they were enemies at first, Love and Karen had a big fight on Bay Street, I remember when we were like 18 years old and Karen actually bit Love's hand and paralyzed it for like two weeks. Love was a nail technician and couldn't go to work because of Karen. After that, I don't know, they became friends.

Renee grew up with Alicia 's boyfriend. Renee was very close, almost best friends with Alicia's boyfriend [and eventual husband] throughout the years. When I was actually trying to cast the Philly Mob Wives the first person I looked at was Alicia because of our connection to Edward, who was Renee's friend. Natalie [Guercio] wasn't as organic as the rest, but me and Renee met her through a family friend of ours. We were friendly but it wasn't a lifelong connection like the rest of the women."
[rpi]
When it comes to Natalie DiDonato, Jenn had this to say about the Philly girl:
"The other Natalie was actually really happenstance. She really was in Philly doing makeup and really came to us knowing Natalie Guercio and having a bone to pick with her. She came on and we interviewed her to see if she would fit in but she wasn't deeply entrenched with any of us at the time."
As for Brittany and Marrisa, Jenn said:
"Marissa's boyfriend actually went to kindergarten with me and lives up the block from me. His first cousin was my first boyfriend, so then I would go eat over their house like everyday. His older cousins were – my older sister babysat for him and his older cousin. It's all an intertwined world."
How hard was it to cast the show organically each season?
"I would say 95% of it was organic. It started to become harder towards the end because although there were a boatload of women that we could have picked from, not everyone was allowed to do it, not everyone wanted to do it. So in that sense, yes, but if this was an open forum, I could've cast Mob Wives for days."
Who was the biggest loss to the show?
"The biggest loss to me was Karen, which is why she came back. For many reasons, one, because of the authenticity of her family name, and if you know anything about New York history, whether you find it to have a negative or a positive connotation, her father's name rings bells. That was one reason, the second reason is because of the deep-rooted history she has with all of the cast members and obviously that manifests itself in fun times and contentious times, and it brings drama and adds to everything you're looking for in reality TV.

The second biggest loss, and Karen's probably not gonna like that I said this, but I think Alicia. I think that Alicia brought something that we didn't have. Not only did Alicia have a history as a true mob wife but she had her own legal case going on which I thought brought a fresh dynamic. Like okay, not only do you suffer maybe emotionally or have to worry about sending your husband commissary but Alicia had to worry about somebody sending her commissary. She had to worry about leaving her children. I think that was a fresh look at what could really happen if you really marry a guy like this.

Plus, I like the way she argued because it was never like, "I'm gonna punch you in the face." It was always, "I'm gonna tell you exactly how I feel and I don't care if you like it, and you can tell me how you feel. We're never gonna get physical but I'm never gonna back down either." I liked that because some reality shows, they want you to fight and hit. That's never what I wanted, especially between my friends. I liked the fact that Alicia was able to bring the drama without taking it too far. And she had a great sense of style, so, I think she added a lot to the show."
What was the most shocking thing that conspired during the filming of the show?
"I would have to say, the first thing that comes to mind is when my ex-brother-in-law turned himself in, and then the same day, my father was arrested. We learned along side the entire world that my ex-brother-in-law was wearing a wire, and ratting on my father. I mean that was the hardest to watch, especially the downfall and the effect that it had on my sister, as well as my father obviously, and what happened to my family. That was the most difficult to live through while filming. The most unexpected I would have to say is probably the 127 person mob bust that happened because we couldn't have even scripted that on a show like this!"
What are your thoughts on  Jenn Graziano's response?