Moniece Slaughter is done playing Love & Hip Hop Hollywood games with Princess Love Norwood.
At the top of Love & Hip Hop Hollywood Season 5, Princess Love Norwood put her petty heels on and went on location to sabotage Moniece Slaughter.
It was really dumb, but Love & Hip Hop Hollywood viewers ate it up. Read on to see what is happening now…
CelebNReality247.com reports that Moniece Slaughter has reportedly taken legal proceedings against Princess Love Norwood.
Last week, Moniece Slaughter and Princess Love were on social media weighing in on how they almost came to blows during the filming of LHHH.
That is all the evidence that Moniece needed. On Monday, Slaughter has reportedly decided to file a police report against Ray J's wife.
According to reports, Slaughter has decided to file charges and Princess admits to throwing things.
Details Why Moniece Slaughter Files Police Report:
To make matters worse Slaughter showed up allegedly looking for trouble while Princess and husband Ray J were filming at one of their friend's party. Their verbal altercation ended and got physical after Slaughter threw cake at Princess Love and Love threw the rock in return.
Who could forget this moment when Princess Love Norwood popping up on Moniece to cause some mess by calling Slaughter a "keyboard killer" and a "fake lesbian."
Love set it off saying "maybe I'll show you how to be a good mother." Moniece went at Princess by trying to throw a chair at a pregnant woman. #SMH
Watch:
Slaughter has been on Instagram discussing how she was ready for a showdown with Princes. She even shared a video on social media after the incident took place, stating:
When that bitch Princess tells you to meet after the scene, so you hide out. And then you book it with no shoes on, bitch! Okay, I'm with all the shits – anytime, anywhere.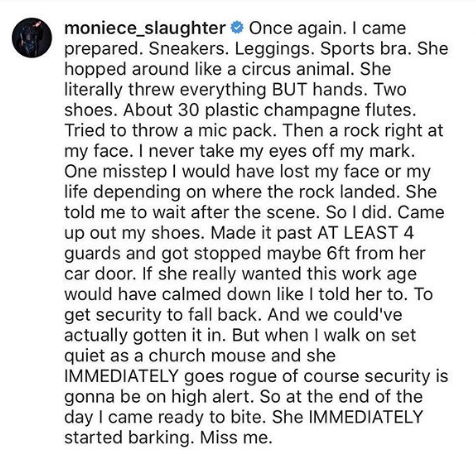 In addition, The JasmineBRAND reports:
Slaughter recently pleaded on Instagram to be let go of her reality show contract. She has disclosed how she's felt depleted and admits the show is sucking the life out of her. She also admits to suffering a mental breakdown after being told she would not be released from her contract and was forced to seek outpatient therapy and medication.
What we find so interesting is how Moniece claims that she wants out of her contract, but acts completely hostile and belligerent on Love & Hip Hop Hollywood. She is constantly seen stirring the pot on the series and then pleads the fifth when the finger is pointed. Word of advice, "OWN YOU SH*T!"
Check out Moniece with Kimberly talking about their petty party. Listen to how Moniece is planning to get at Princess with Kimberly:
Another thing we find interesting is this, "did Moniece have an epiphany after the death of Michael Mann?
She admits that she doesn't know him, but she is saddened to hear about his loss. What we would like to point out is how she advises us all to be better, but can't seem to do that herself. Not only that, but she has displayed an ugly example of a black woman on TV by the way she fights with Princes.
It is HORRIFYING to see another one of our brothers lose his life. For ANY REASON. This world is cruel. Often times, stone cold. Our lives can be full of people that say they love us. That may even mean us well. But with every suicide we learn, that sometimes, that just isn't enough. We tear each other down. We waste hours on meaningless gossip. We preach about being better and doing better as a community. And yet, there's never any real action. A phone call to those you call your friends, has the potential to make or break a decision that you never even knew they were contemplating. The seemingly strongest people you know, who appear to have it all together, have their dream job in their field, seemingly adored by everyone, are often times the ones that need their people the most. Call someone and tell them you love them. Ask them how they're doing. Ask them if they need anything. But more important than words, are actions. SHOW them that you mean what you say!