It looks like Rich Dollaz spilled the tea on Peter Gunz wife because Amina Pregnant Again After Abortion!!!
We guess the news of Tara Wallace having a third child be Peter Gunz was too much to handle so Amina Buddafly got seeded by Peter for a third time and she's keeping this one…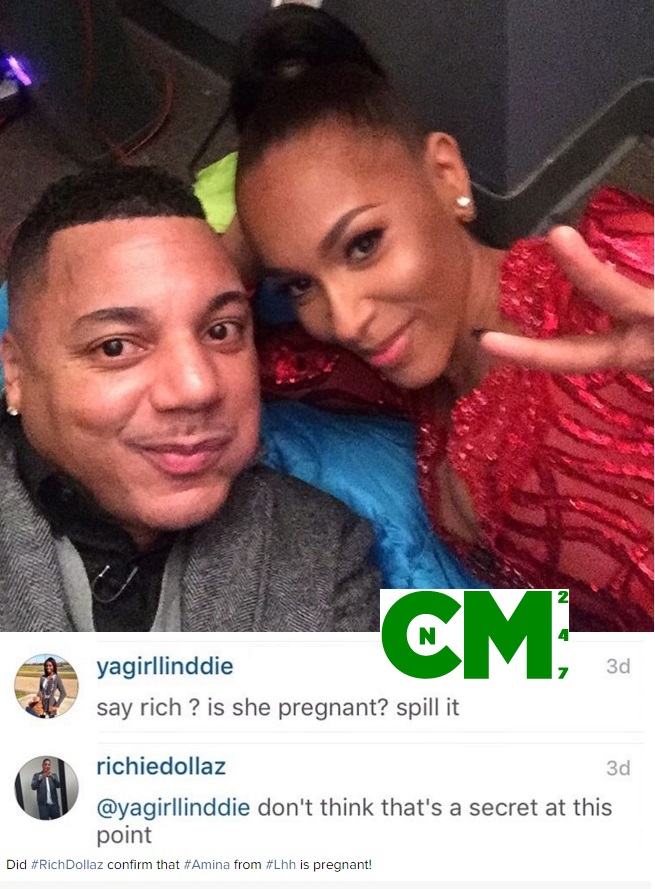 Is Amina Pregnant Again After Abortion?
CelebNReality247.com and CelebNMusic247.com has just learned Love and Hip Hop co-star, Rich Dollaz may have spilled the beans of the inspiring singer's third pregnancy.
This season fans got to watch Amina go through the pains of her marriage with Peter Pankey aka Peter Gunz. She got pregnant, then had an abortion because she didn't want to have another child by Peter if he was going back to Tara. Amina was so PISSED with Tara the she DRAGGED her on Twitter!
Things ended up working out in Amina's favor and she got her man back, but then news broke, which we told you first, that Tara was knocked up by Peter. We love that the HATERS tried to tell us we were wrong! Who are you, Shade?
If you remember the premiere episode, Tara and Peter had just slept together and all it took was that one night. Tara even spoke out about the pregnancy!
[rpi]
Since the news of Tara keeping the baby, Amina had an emotional breakdown over Tara being pregnant and how she uses his kids to keep him coming back. Meanwhile Tara just wants to put Peter behind her and move on with her life.
Confused?
Well Peter weighed in on the drama and Tara's pregnancy on the Breakfast Club, hoping to set the record straight!
And then this happens, Rich Dollaz spills the tea that Peter Gunz and Amina Buddafly, or shall we say, Mr & Mrs Pankey gave it another shot and he hit the bullseye because Buddafly is knocked up again by Gunz gun!
In the snapshot (above), Buddafly posed for a quick picture with Dollaz as one fan asked if she was pregnant again. Dollaz quickly replied and said:
"I don't think that's a secret at this point!"
There you have it, Amina is pregnant again and LHHNY fans are talking!!!
What do you think about LHH6 star Amina Buddafly getting knocked up by Peter Gunz again?