After rumors that Rich Dollaz hooked up with MariahLynn from Love & Hip Hop 6, Rich Dollaz Sets the Record Straight, "

Never talked or dated Anyone on LHH 6″

!!!
CelebNReality247.com has the latest tea to spill on our favorite LHH hunk on the flip…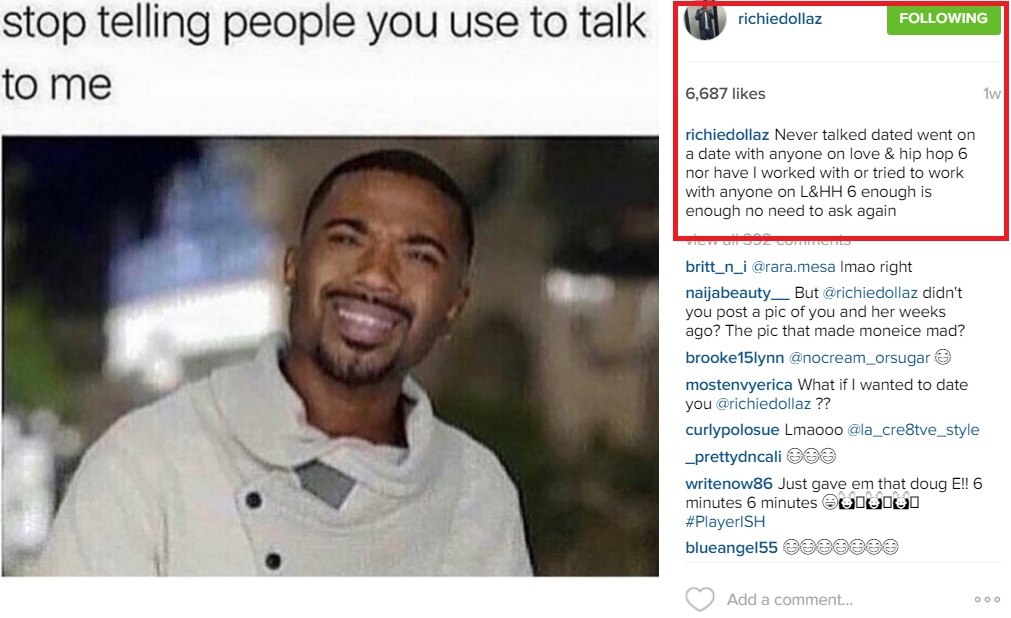 Did you hear,Rich Dollaz Sets the Record Straight on who he slept with?
According to the Creep Squad leader, he SLEPT with NO ONE this season! Richie D keep his pinga in his pants for season 6 of Love & Hip Hop New York.
We don't blame him since this season the ladies were just using the guys to get tracks. Last week, MariahLynn finally got what she deserved, she got PLAYED by Richie, when Cisco Rosado showed up, catching her trying to work side deals.
Now the two were talking about their amazing 6 minutes, but that was before NOT from this season, according to Rich Dollaz. We have to ask it's only 6 minutes Rich? We thought you'd be at least 25 minutes of pure passion or more.
[rpi]
Anyways, Rich took to Instagram saying that he loves his job:
"Unmm what you talkin bout Willis ???? But cannot tell a lie love my job ????"
But then Rich posted a photo of Ray J that reads "Stop Telling people that you used to talk to me" with a pic of Ray J from LHH Hollywood, he weighed in on the rumors, writing:
I "Never talked dated went on a date with anyone on love & hip hop 6 nor have I worked with or tried to work with anyone on L&HH 6 enough is enough no need to ask again!"
It was RUMORED that Rich was dating a chick who goes by Miya Nation, but she is NOT part of Love & Hip Hop 6. So if he is dating her then, he's right he is NOT dating MariahLynn or any of the women from this season. After last years hook up with Diamand Strawberry, Rich and Cisco has been odds. Tonight Rich and Cisco get into a heated fight.
After Love & Hip Hop Hollywood season 2 ended he and Moniece Slaughter called it QUITS. Shortly after he was done with Moniece he SHUT DOWN Ray J!