Porsha Williams and her soon to be husband Dennis McKinley announced the birth of their baby girl Pilar Jhena McKinley on Sunday.
The happy couple are officially mommy and daddy and Porsha Williams and Dennis McKinley couldn't be happier. Read on…
CelebNReality247.com reports that Porsha Williams soon to be Mrs. McKinley gave birth to her baby girl over the weekend.
Following the birth, the newly happy Real Housewives of Atlanta mommy Porsha Williams announced her baby girls name to the world, Pilar Jhena McKinley.
The new mom gave birth to Pilar on Friday. The newborn weighed 6 lbs., 15 oz. McKinley shared a snapshot of him and his future wife just hours before they welcomed Pilar.
Porsha announced her baby girls name like this:
Pilar Jhena' McKinley's Parents ?? #MeetTheMckinleys
Her sister Lauren was with her during the birth on Friday. She took to social media with a special speech of her own.
Lauren Williams speech is as follows:
Waiting for my baby to have a baby. I didn't get to give my speech at the baby shower so I'll give it here. When daddy died, I was 10 and she was 16. We were at the hospital in North Carolina (Duke) and the doctors had notified everyone that he probably wouldn't make it through the night so the family gathered at the hospital to say their goodbyes. I knew why everyone was there but for some reason, I still hadn't accepted it. That night I slept in Porsha's lap in a private waiting room. The next morning we woke up and flew home. The morning of the funeral I sat on the front row directly in front of the casket. Probably not the best idea for a 10-year-old in hindsight because they left the casket open for the majority of the service. So I laid on my Aunt Jettie's lap and went to sleep. I slept until the end of the funeral when my mom was responsible for kissing cheeks and shaking hands with guests. Porsha immediately got grabbed me and walked me out of the funeral. She knew it was all too much for me. Her motherly instincts have always been there. She's my child and my mother ? if you know us, you know what I mean. So I'm ecstatic to welcome my niece, granddaughter, second daughter, and sister PJ to the world today. Pray for us??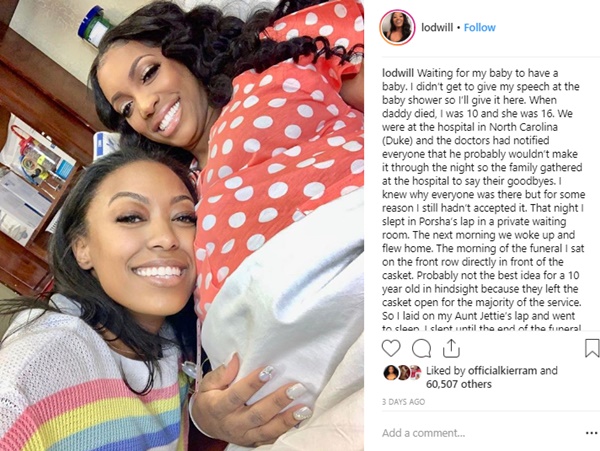 Happy new daddy, Dennis McKinley had this so say about the arrival of baby Pilar, who is already calling PJ.
Dennis said:
It's going down! BASEMENT #MEETtheMcKinleys #BabyPJ #MILFSeason #Grateful ????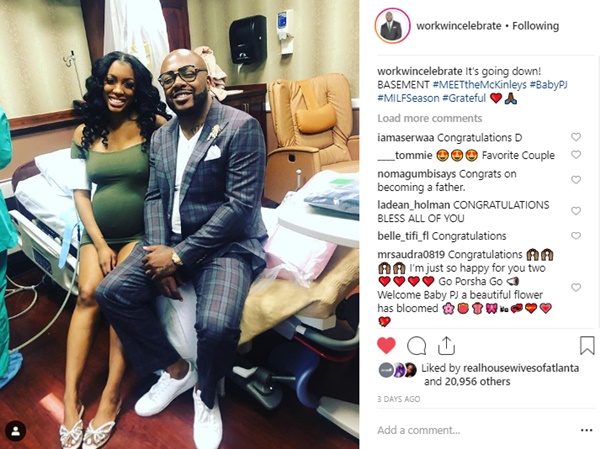 If you recall, during the baby shower, Pilar was one of the names Porsha was considering: