If you've been watching Love & Hip Hop Atlanta then you witnessed Scrapp DeLeon pled guilty for marijuana trafficking. Now his brother Sas DeLeon Details Scrapp's Life In Maximum Security Prison!!!
Find out what Sas DeLeon says about Scrapp Life In Maximum Security Prison…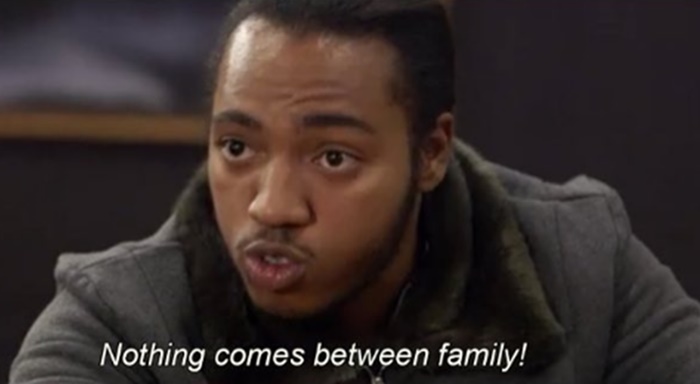 CelebNreality247.com has learned via an interview with Vh1 that Scrapp DeLeon will serve five years in prison and 15 years on probation under the condition that he pay a $100,000 fine for marijuana trafficking.
Scrapp was already behind bars once LHHATL started airing. We previously told you about Scrapp DeLeon already behind bars after Sas DeLeon posted a message on Instagram giving his prison stint away. We also told you first about his 5 year stint behind bars, but we learned about the 15 year probation via the series.
It's a pretty harsh punishment for marijuana, but it's NOT California where marijuana is legal. Anyways, Sas told Vh1 in an exclusive interview Scrapp's time in prison creates new obstacles, as Scrapp was his manager, but the life-changing event also acts as an inspiration for his next mix tape, "If I Don't Lead, Who Will?"
SAS DeLeon explains:
"[My mix tape is] about my trials and tribulations. About how my brother is no longer with us. You know he passed away in 2009. Scrapp DeLeon is no longer with us. He's actually doing some jail time right now so it's like everybody is looking at me to lead, so that's where the title come from. Like, if I don't lead, who gon' do it? Who else gon' do it?"
A big part of this role is acting as a father figure to Scrapp's son, King. King, too young to understand why Scrapp left for an extended period of time, constantly asks SAS when his dad is coming home from work.
SAS continues talking about taking on the father figure to Scrapp's son, King. Though, he feels that King is too young to understand why Scrapp left for an extended period of time. He says that King is constantly asking SAS when his dad is coming home from work.
He adds:
"I tell him all the time, 'you know your daddy love you. You know he can't wait to see you,' just so he don't feel like it's a choice that Scrapp made to be away. I don't want my nephew to ever feel like that or think like that. I think that growing up, I felt like that about my pops at one point in time, like, damn why he ain't around?" He admits that leading a family without Scrapp is a challenge, but declares that it's a "small thing to a giant."
SAS recalls this situation being all too similar when he and his brother were arrested back in 2012:
"We was separated from each other for about a year."

"[We] couldn't see each other. We were both in jail. Even when we got out of jail we [were] both on house arrest. Couldn't see each other, couldn't talk to each other. That was part of our bond. It['s] like now we['re] going through it all over again. I'm not in jail, but he is."
Despite these setbacks for Scrapp being behind bars, Sas says:
"Scrapp found companionship and protection soon after getting locked up."

"He's Muslim, so he linked up with the Muslims," SAS explains. "And you know in prison, nobody really mess with the Muslims cause there's a lot of them and they organize. He was telling me about how when he goes to the shower like 10 guys escort him to the shower. He stands on guard for one of the Muslims in the shower. [They're] protecting each other, watching each other's back. When it's time to go to the room, they escort him to his room. So he say it's real chill. I mean of course he would rather be home, but he's dealing with it." SAS made it clear that Scrapp's faith has helped him find some positivity in an undoubtably negative situation."
When it comes to his feeling on his brother's arrest and sentence, Sas concludes:
"Personally, I feel like they should be more lenient on certain charges, but hey that's the system. The system's f–ked up."
There you have it, Sas is speaking his mind. We understand the 5 years, but 15 years probation is ridiculous.
Sh-t move to California where weed smoking is legal. What are your thoughts?