Talk about throwing more salt in an open wound? After the Black Ink Crew "Smack Down" episode when Sky beat down Rah Ali, the LHHNY star Rah Ali SHADES Sky Giving Up Her Sons!!!
Rah Ali went below the belt but wait until you see what Sky CLAPS BACK saying to the LHHNY star on the flip…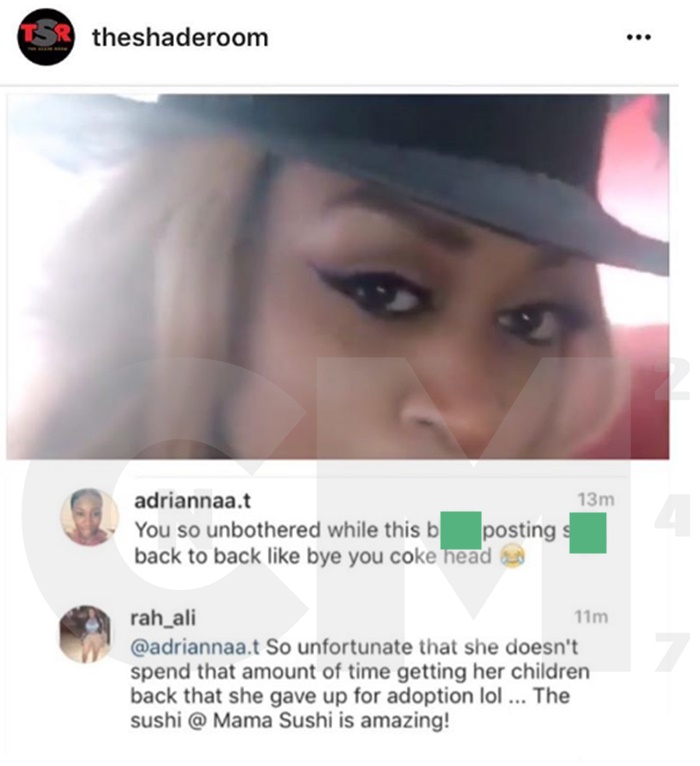 CelebNReality247.com feels Rah Ali was wrong for her statement below, but apparently Sky CLAPS BACK with some real talk, Rah is not ready for this.
When learned via Vh1 that one of the Black Ink Crew fans claimed #TeamRah, Rah responded with a low blow comment criticizing Sky's painful decision to give her two sons up for adoption. Rather than getting nasty, Sky posted the most articulate and elegant clap back of all time.
Sky CLAPS BACK breaking it all down and then puts Rah Ali in her place for her wayward comment.
Sky's statement reads as follows:
"Fyi: The only thing that's unfortunate is us as women had to come to physicality's because of actions that put the other in danger (putting my address in social media). In regard to my children, for you and all of those that are ever so concerned about my children they are doing amazing with their adoptive parents! Suddenly uprooting them and taking them out of their element definitely was not my goal whatsoever. My goal is to tell them the reason behind the selfless decision that I made. To give them reason behind the actions of their birth mother how dearly I love them.. The platform I was given to tell my story is also a message out to my children that most birthmothers aren't able to tell until the children are of the allowed age to make contact.  Taking LOW blows to the children is nothing new.. I see comments on social media on a regular basis.. I can care less.. Everyone is entitled to their opinion…"

…I'm thankful that the Lord has given me the opportunity and the platform of #BlackinkCrew to be able to inform about the adoption process & adoptive issues that people may not know in our community and I'm able to entertain the masses….?  That ass whipping that you were blessed with by these hands will be my last physical altercation #positvevibesonly. I'm on a different flow…say what you want I put energy into posting what you said to me I'm entertaining?? Peace and Infinite blessings"

She followed her statement with these hashtags, #BlackinkCrew #Llhhny #SkyCode #LoveYou #SkyGang
Sky also posts this video of Rah talking a lot of mess on social media. Basically Sky BLASTS Rah Ali.
Sky captions this video saying:
"#Tbt You Talked A lot Of Shit On This Social Media Tuff Guy… ???????"
Sky recalls things not adding up. She writes this about the "so-called" moment when Rah came to her door and turned away.
Sky states:
"#Tbt Till This a Day I Feel She Watched Walk To The Store To Wait To Do That Video… Shit Wasn't Adding Up…???? ??Never Started Wit A Soul…#FinishedItTho ?"
Then she posts this video to back her words:
Thoughts?
Photos: Instagram