What's happening? Sky And Donna Fighting on Black Ink Crew? What could have caused Sky to wanna beat down Donna?
Find out what Donna did to Sky that had her ready to beat a b**** down on Black Ink Crew inside..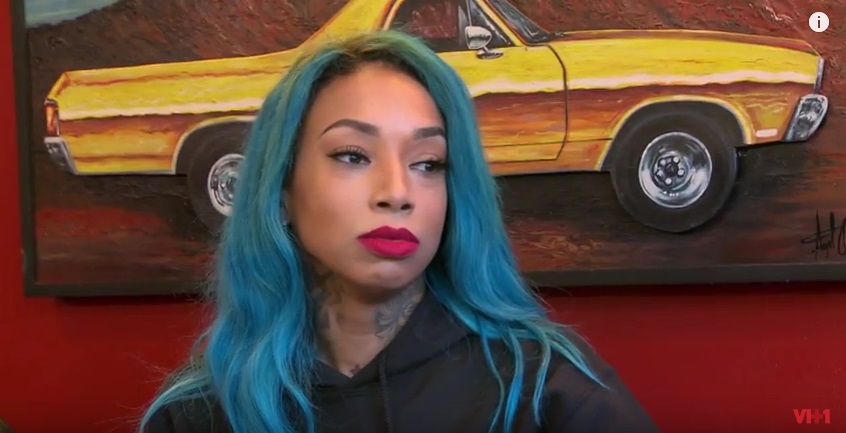 Sky was on some "Bitch Betta Have My Money" tip when Donna walked though the Black Ink doors after she told Sky she ain't paying for Miami.
Yes, word to the wise, don't take a broke @ss cheapskate on a trip, cause you know they ain't gonna pay and then when the get squirrely all you want to do is snap the pink hair off her stank face. Yeah, we feel for Sky on this one!
Broke and cheap are two things that makes us drop a friend in a minute. See, Donna went to Miami and had funds to buy drinks, take advantage of Dutchess and now show how stank she is when she doesn't pay her portion of the trip for the house rental. Yes, Donna knew damn well that she had to pay, but instead she gave Sky the middle finger salute so Sky got gully and went for a Beoatch!
Sky reveals the reason she went off of Donna, aside from her "being a broke b—h", is because she is not a liar and was tired of Donna making her seem like one.
Aside from calling Donna a "f—ing lying a– Raggedy Ann looking-a— b—h," it seems to be a general consensus around the shop that Donna would be a hundred grand official if she just stops doing "weirdo s–t." Glad to see they're good now though!
Check this out and let us know, what would you do if Donna played you on some money?
Checkout Sky breaking things down after she punched Donna in the face. She don't like no F'n liars! Meanwhile she feels that Donna is more real than some of the other cast members. Hmm, was she talking about Dutchess?
Don't miss an all new Black Ink Crew, next Monday at 9/8c!