This season of Love & Hip Hop Atlanta Joseline Hernandez has been more scandalous than ever. And when it comes to RUINING people Joseline has been on the attack for Stevie, Tommie + Mimi, but now Tommie On A Mission To Destroy Joseline Hernandez!!!
Flip and find out what Tommie Lee is planning to do to Destroy Joseline Hernandez…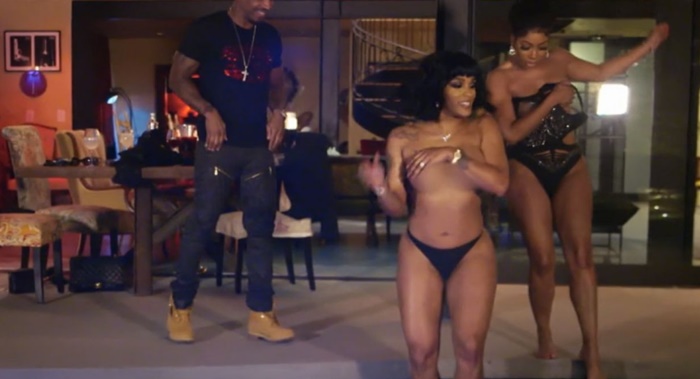 CelebNReality247.com has the latest tea on Tommie Lee who is seeking vengeance after Joseline tried to lure Tommie into a three-way with she and Stevie J. Tommie is heated with Joseline and is ready to deal with her on site for what happened at the pool party.
Last week Tommie had this to say about her twisted relationship with Joseline:
"I'm telling her about the conversation I had with Scrapp, saying that about Stevie how I was gone, you know, make your uncle eat my p—y and pay me n—a since you got dealings with Karlie that I don't know about. So I told her about that. And I told her you know it ain't nothing. I don't look at Stevie like that, but I just wanna let you know from my mouth that that's what's about to come at you…

…You know what I'm saying? So, she was like man, she wasn't mad at all. She was like, "thank you, b—h for telling me. I'm glad you told me like this cause if you told me in scene I probably would've made you look stupid," or some s—t like that. It was some slick s–t she said but at the end of the day she wasn't mad. She offered me to come to film with her. She said she was having a pool party. And she was like, "Don't tell nobody." She was like, "[I] gotta send me the room number and s—t""
Fast forward to this week, Tommie Lee tells Karen King what happened:
Tommie is seen in an advance clip from the upcoming Love & Hip Hop Atlanta slurring and stuttering telling KK the story of what almost went down. Karen King side eye game is strong because Tommie is clearly drunk. But she learns that Stevie J came to her room after the pool scene, but she is now accusing Joseline of setting her up to get arrested.
With Scrapp DeLeon is locked up, Karen is worried for Tommie drinking. Plus she wants to know if this crazy story is true?
Let's NOT forget that Joseline Hernandez has spent all season trying to exact revenge on whomever she sees fit and decided it was Tommie's turn on last week
WATCH:

While the episode showed a tipsy Tommie going along with the Baddest B—h. The Love & Hip Hop Atlanta newbie Tommie Lee claims that's not exactly how everything played out.
"Oh yeah, she had invited me. She was just like, "I'm having a pool party b—h, come through, don't tell anybody." All of this s—t. So I was like, "Cool s—t though." Basically me and my friend had just came from a pool situation at the SLS. I was staying at the Westin, but you know I couldn't book a room for the whole week because it's so crazy [because of] Grammy weekend, so my other half of the week was booked at the SLS already. So that was our last night at the Westin so we go back to the Westin, right? We get dressed dadadada. [I] tell my homegirl we gon' move in the morning, all this s—t, and you know I'll be back."
Tommie Lee goes on to reveal how it all got started. She tells VH1:
"It was like 40 minutes a f–king-way or something from where we was at in Beverley Hills, like a 30 minute drive to get there. So then when I come in, they sitting at a table across from each other, her and Stevie, and I'm like, "Damn where's the people b—h? You said it was a f—-n pool party, you know what I'm saying? So then it's just them. So I'm like oh okay, I feel what the f—k this gonna turn into. So she started bringing up "oh yeah, Stevie, um Tommie was telling me how she wanna f—k you." I said, "that's not what I said. I said to Scrapp that I'm gonna make you eat my p—y and pay me but it was just all out of anger" and I apologized to him. I was like…

…"I apologize to you because I was out of line for saying that and you his uncle, he look at you like an uncle and all that." But you know what I'm saying her people on some s—t like that. So she like "f—k all that" she didn't wanna hear that s—t. She say "f—k all that. Let's get naked. I wanna skinny dip," all that, you know what I'm saying. So I was like cool, but then in between my drinking earlier and drinking then — not tryna use alcohol as an excuse but I was a little tipsy – I'm thinking in my head this s—t ain't gon' look right, this s—t look like something else, you know what I'm saying? So when I take down my towel, she was like "baby take down Tommie" I said "baby can't touch me." And she was like "well I do hers you do mine," telling him to take her top off and she'll take my top off. So then she did it. I step my feet in the water, the pool's cold as hell, step my feet in a little, we got out, that was it"
The whole thing sounds like a mess.
Thoughts?