Tonight on Black Ink Crew thing get way TURNT up when Sky gets hood and Attacks Rah Ali while Ceasar is trying to do touch ups on her Ink!!!
Flip and get the details on what went down on Black Ink Crew 4 when Sky Attacks Rah Ali…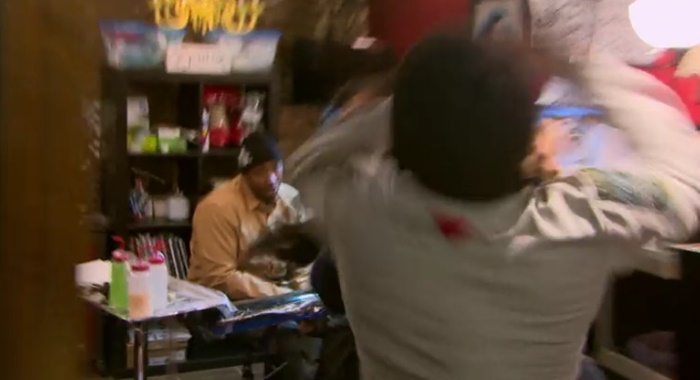 CelebNReality247.com wants to call this the fight of fights on reality TV this season.
We thought LHHATL 5 had some fights but Sky vs Rah Ali is hands down the winner. She gets up in Rah's face repeatedly punching her. Its wicked. Sky was dealing with the issues of missing her sons and took out all that aggression on Ali.
It was crazy, Cease told Teddy that he was doing some touch ups on Rah Ali and Teddy was like WHAT?
He warned Ceasar of Sky and Rah beefing, but Cease didn't listen. When sky walked in she did what she always does by stirring the pot, acting innocent and then calmly asking "where's that girl?" Cease replied "Sky?" Of couse she said, "yeah her, is Sky around? I would really like to talk with her…could you call her to come down?"
Teddy knew it was a mess waiting to happen, but Ceasar was like sure, so Teddy called Sky to come in and she was ready to fight. She was swole, heated, hair braided and greased. Sky walks into Cease tattoo room, Rah gets up and says, "what are you ready to fight, is that what you gone do..is that what you gone a do".…." Yeah, Sky started punching on her before Rah could finish her words. It was crazy and Sky even pulled of Rah's wig!"
Watch Sky beat down Rah Ali below:
Other things that went down was another fight between Donna and an Art 2 Ink artist baby mama. That fight was caused by Sassy meddling in other peoples business.O'Shit is off the wagon. He shows up late for his art show. And to top that he leaves a client waiting for 4 hours. after O shows up late, Cease looses it and starts throwing furniture. O says his self worth is zero. He has no self esteem. it sad, because O needs to stand up and be a man, not a boy screwing up!
Dutchess goes out of her way to make Ceasar know that she loves him. She cooks his favorite meal.
last but not least, Cease shows Teddy the furture home of Black Ink Crew at the new location on 142nd street in Harlem."
Here is what she said shortly after the filming of the episode:
"??Good Morning… This BiG Wrestler BiH SwunG The Shit Outta A Pretty Bih… I'm Not One For Pulling Hats Overheads Or Sneaking Chicks Wit Bottles…. That's The Preview…… After Her Hat Came Off That's When My Hat Comes Off then We'll See???? #ThanxSecurityForLettinUsPopForAMin – Be Sure To Tune into #BLACKINKCREW #Season 4"
Watch: