In the case of fake it until you make it, Paris gets shut down by K Michelle's pulling out receipts!
K Michelle aka Kimberly she is NOT playing with Paris anymore after she heard that her former assistant was talking ish about her in England.
Doesn't Paris realize that the Love & Hip Hop Hollywood 5 cast is messy and to trust no one? Read on to see how Kimberly belittled Paris in public…
CelebNReality247.com reports that Paris tried to act innocent instead of owning the fact that she used K Michelle's credit cards without her consent.
See, Paris should have told K Michelle that she charged a few things on her cards so it wasn't a surprise when she got the bill.
Instead, it seems as Paris just assumed back in 2014 that it was cool to live her best life on K Michelle's expense.
There are always three sides to a story hers, hers and the truth. Thanks to K Michelle whipping out receipts Paris claims of $50 dollars is LIES!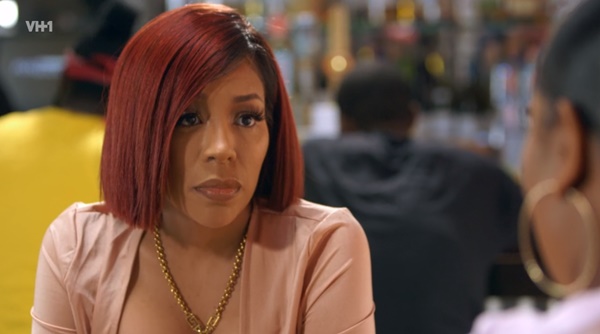 This week on Love & Hip Hop Hollywood Season 5 episode 12 Kimberly and Paris meet up to talk about their issues, but it quickly goes off the rails.
Paris goes right into denial mode, while K pulls out the charges to prove how much she tried to charge to Kimberly.
The sad part is Paris tries to pull out a stack like she got something, but it was a stack of $1's – that means she had a hundred bucks and the charges are more like $500 bucks. #SMH
This is what Paris told Nikki and Moniece in London: